Program
Financial Services (Bachelor of Business Administration)
---
Summer 2023: Applications open
Fall 2023: Applications open
Winter 2024: Applications open
Length of Program
Eight semesters
Credential Type
Bachelor's Degree
Campus
Coquitlam
New Westminster
Admission Type
Open Enrolment - Additional Admission Requirements
Overview
In the Bachelor of Business Administration (BBA) in Financial Services program, you'll take business finance courses that cover financial planning and investing, business and financial law and financial literacy. Once you graduate, you'll be prepared to take on roles such as financial planner, financial advisor or investment analyst. You'll also be prepared to test for internationally recognized designations such as Certified Financial Planner (CFP) and Chartered Financial Analyst (CFA).
Work experience while you study
Put your skills to work by joining the optional Co-operative Education Program, which alternates semesters of study with paid, full-time work in your field. You'll earn money while gaining experience, building your resume and getting an employer reference, all before you graduate. To participate in Co-op you need to plan two semesters in advance, so we strongly recommend contacting the Co-op Office at the start of your program.
You will also need work experience in order to complete BUSN 4500, the capstone course in this program, which requires you to have 500 hours of Canadian work experience. Hours gained through Co-operative Education and volunteer positions may be used to satisfy this component. See Program Requirements for more details. 
Get valuable experience through the Business Internship Program
In the Business Internship Program, you'll apply the theory and knowledge you've learned in class into a real-world business setting. During your unpaid part-time internship, you'll be assigned tasks and projects that junior management, marketing, business, administrative and/or sales employees complete in the modern workplace. 
To be accepted into the internship program or the Co-op program, you must contact the Career Centre early in your studies at Douglas College. 
Excellent job prospects
The financial industry is growing across all sectors, with over 22,300 job openings in Canada between 2019 and 2028.* Financial advisors are especially in demand as companies look to these experts to identify opportunities for business growth.
*Source: Job Bank Canada
Get licensed as a Certified Financial Planner or Chartered Financial Analyst
Once you've completed the BBA Finance degree and FP Canada Core Curriculum courses (listed in program requirements), you'll be qualified to write the FP Canada Financial Planning (CFP) exam and the Chartered Financial Analyst (CFA) Level 1 exam. The CFP and CFA are both internationally recognized designations that help you stand out in the job market and open up more finance job opportunities in a variety of industries.
Choose a concentration for your degree 
The Finance degree offers a number of concentrations to choose from that will help you build industry-relevant skills for your career path. See the Concentrations tab for more information. 
Admissions Requirements
1. General College Admission Requirements
2. Pre-Calculus 11 with a minimum grade of "C" or Foundations of Mathematics 11 with a minimum grade of "C"
Cost
You can get an average cost for your program - tuition and student fees, books, uniforms, lab fees etc - on the Program Cost page. 
Only programs approved for student loan funding are listed on the Program Cost page. For all other programs, refer to the Tuition Fee page.
Program Requirements
Curriculum Framework
Graduation Requirements
Successful completion of 121.50 credits
45 Upper Level (3000-4000) credits required
A minimum of 70% of upper level credits must be completed at Douglas College
A minimum program GPA of 2.00 is required to graduate
1000-2000 level courses must be University Transferable (courses that transfer to one of the Research Universities - SFU, UBC (UBCV or UBCO), UNBC or UVIC according to the BC Transfer Guide
Students can also take this program with a cooperative education option
Additional Graduation Requirements with the Co-Operative Education Option:

Successful completion of 3 Co-Operative work terms (27 credits)
Students completing the Co-Operative Education option will graduate with 148.5 credits and may require additional terms of study.
Course Requirements:
Course Number
Course Title
Credits
Required Courses
ACCT 1110*
Principles of Accounting I (see note (1) below)
3.00
ACCT 1210*
Principles of Accounting II (see note (1) below)
3.00
FINC 1231*
Business Mathematics (see note (2) below)
3.00
BUSN 1210
Management Essentials
3.00
MARK 1120
Introduction to Marketing
3.00
CSIS 1190
Excel for Business
3.00
ECON 1150
Principles of Microeconomics
3.00
BLAW 1320
Introductory Business law
3.00

Select two courses from the following three options:

ENGL 1130
Academic Writing
3.00
CMNS 1115
Business Communication
3.00
CMNS 1125
Public Speaking
3.00
Required Courses
PHIL 1122
Business Ethics (see note (3) below)
3.00
ECON 1250
Principles of Macroeconomics
3.00
FINC 2300*
Personal Finance I (CFP)
3.00
BUSN 2429*
Business Statistics I (see note (4) below)
3.00
MARK 2150
Personal Selling
3.00

Select one of the following two options: (see note (5) below)

FINC 2340*
Corporate Finance
3.00
Introduction to Corporate Finance
3.00
Required Courses
ACCT 2320
Introductory Management Accounting
3.00
BUSN 3310
Organizational Management Skills (see note (6) below)
3.00
FINC 3390*
Security Analysis (CFP) (see note (7) below)
3.00
Select three courses from the following options:
FINC 3300
Personal Finance II (CFP)
3.00
FINC 3305
International Financial Management
3.00
FINC 4340
Investment Management Techniques
3.00
FINC 4360
Portfolio Management Techniques
3.00
Select four courses from the following options:
FINC 3370
Financial Markets and Institutions
3.00
ACCT 3370
Income Tax I (CFP)
3.00
ACCT 3410
Intermediate Accounting II
3.00
BUSN 3431
Business Statistics II
3.00
MARK 3500
Financial Services Marketing
3.00
ACCT 3470
Income Tax II
3.00
BLAW 3730
Corporate and Financial Planning Law
3.00
FINC 4370
Financial Planning Capstone (CFP)
3.00
FINC 4380
Derivatives & Theory & Applications
3.00
FINC 4390
Financial Analysis Capstone
3.00
Required Courses
BUSN 4275
Business Strategy and Competitive Analysis (see note (8) below)
3.00
Open Electives
Eight 1000 - 4000 Level Elective Courses(see note (9) below)
24.00
Open Electives
Five 3000 - 4000 Level Elective Courses
15.00
BUSN 4500
Career Portfolio Development (see note (10) below)
1.50
Total Credits
121.50
Co-Operative Education Option
| | |
| --- | --- |
| 3 Co-Operative work terms (See Note 11) | 27.00 |
| Total Credits with Co-Operative Education Option | 148.5 |
Notes
ACCT 1235(Principles of Introductory Financial Accounting I & II) can be taken instead of ACCT 1110 and 1210. A 3-credit open elective course must then be taken to meet the 121.5-credit requirement of the program.
The Canadian Securities Course (CSC) may be transferred in and substituted for FINC 3390.
BUSN 4275 must be taken in the final two semesters.
Lower level (1000-2000 level) courses must be university transferable.
BUSN 4500 is a capstone course and requires 500 hours Canadian work experience completed prior. It must be taken in the final two semesters of the degree.
The co-op work term is a minimum of 420 hours of work and must be taken through Douglas College's Co-op program. The timing of the work term is restricted to the following:

Can be undertaken only after completion of a minimum of two semesters, 18 credits
Cannot be taken in the last semester of the program
 *A minimum grade of "C" for each course which is a pre-requisite to further courses is required (courses indicated by *).
The courses listed below satisfy the FP Canada™ Core and Advanced Curriculum requirements leading to QUALIFIED ASSOCIATE FINANCIAL PLANNER™ (QAFP™) and CERTIFIED FINANCIAL PLANNER® (CFP®) certification.
Concentrations
As a Financial Services bachelor's degree student, you'll be able to specialize your degree in:
Program Guidelines
Program Guidelines for previous years are viewable by selecting the version desired. If you took this program and do not see a listing for the starting semester / year of the program, consider the previous version as the applicable version.
FAQs
Frequently Asked Questions
Most BBA courses are transferable to other post secondary institutions. Granting credit for work done at Douglas is entirely up to the receiving institutions. For first and second year courses, most colleges and universities follow the BC Transfer Guide for course transfers.
For 3rd and 4th year courses which are normally subject specialty courses, the receiving institution may grant credit provides such courses are compatible both in content and coverage with the courses at their institution.
This degree is offered to high school graduates, 2-year college diploma graduates or adults returning to education to obtain higher credentials while pursuing professional accounting and financial services certifications such as CGA, CA, CMA, CFP, PFP, and CFA. University and college graduates who may have non-business degrees may also apply.
We offer 3 intakes per year: in the Fall, Winter and Summer semesters. Please note that we may not have many degree-level courses in the summer as most student work in the field, acquiring practical experience. We encourage you to apply as soon as possible, as the seats are assigned based on the application flow. You may also apply online and forward your official transcripts by mail. Apply online here.
All international applicants are encouraged to apply. Foreign applicants should first submit their educational documents including all the official transcripts to International Credit Evaluation Services for assessment of all the previous work done, determination of Canadian equivalency. Once you receive the evaluation, please submit all these documents along with your Douglas College application.
Yes, you may. In such cases, applicants are classified as "pre-BBA" and will be required to complete all the prerequisite courses whether from high school or lower level college prerequisites. Douglas College offers math upgrading and English upgrading for those applicants who may be missing high school level courses.
Yes, we can. Please contact the BBA Coordinators for a personal meeting. We will be pleased to sit down, assess your current educational needs and try to find a program that may best fit your future educational goals and expectation. Get contact info.
The focus of the degree is to equip you with relevant, applied skills in the fields of professional accounting, financial services, banking and wealth planning. You will take a diverse set of courses so you'll be ready for multiple entry position in financial management. Many of the courses contain "hands-on" component enabling you to practice and master skills that will be very relevant at the workplace. The design of the curriculum provides a "seamless" transition from the classroom to the work environment.
You can choose from three specialties: Accounting, Financial Services or Management.
Accounting is ideal if you plan to earn credentials such as a CA, CGA or CMA.
Financial Services will prepare you for wealth planning and securities positions, plus designations such as CFP, PFP, CIM, FMA, CFA or Mutual Fund Licensing.
Management will prepare you for management-level roles in an industry of your choice with the combination of the Chartered Management Program (CMP) designation and industry-specific skills in such fields as financial services, international business, supply chain, hospitality and project or trades management. Plus, earn an additional industry-specific designation for your chosen concentration.
The course offerings are on late afternoons, evenings and all day Saturdays. This format of offering is ideal for working adults and others.
It will take 2-4 years for full-time students to complete this degree (durations for part-time students vary), depending on your level of business education. Get details here.
Testimonials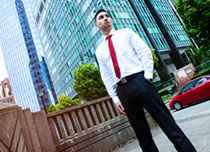 By the numbers
BBA grad Mathias Stoecker is pursing a career in the financial industry as a credit analyst in the heart of Vancouver.
More Information
Concentration in Business Law
Douglas College's new Concentration in Business Law is the first designation of its kind in British Columbia.  It is offered as a special designation to students in the Bachelor of Business Administration (BBA) program who have an interest in supplementing their business education with a series of courses focused on specific legal topics and issues relevant to the modern business professional.
Acquiring a sound knowledge of the basic principles of business law is essential in today's ever changing, highly complex and heavily regulated business environment.  Obtaining a Concentration in Business Law from Douglas College in no way permits graduates to practise law or gain academic qualifications for admission to the Law Society Admission Program. The Concentration will, however, provide Douglas College BBA graduates with practical skills for the business world that will distinguish our students from graduates of other business programs.
Requirements for a Concentration in Business Law
Students enrolled in the BBA program can obtain a Concentration in Business Law designation with their degree by:
Completing a minimum of 12 credits (four courses) from the list of eligible Business Law courses set out below, and
Obtaining a minimum grade point average (GPA) of 2.33 (C+) in any four eligible Business Law courses.
Note:  If a student has taken more than four eligible Business Law courses, the four courses with the highest grades will count toward the concentration.
Career Pathways
Career opportunities include:
Bank Representative 
Budget Analyst Intern 
Certified Financial Analyst 
Claims Adjuster 
Foreign Exchange Trader 
Investment Advisor 
Investment Research Intern 
Junior Budget Consultant 
Junior Credit Counsellor 
Junior Portfolio Analyst
Tax Preparer