Study music in the way that's best for you. From the fundamentals to professional training, Douglas College gives you the opportunity to explore your passion.
---
The most employable people in the music business are those who have a wide range of skills and experience. Douglas College offers you the comprehensive training for a successful career in the music industry.
Program Options
Whether you are interested in one of our four full-time credit programs, or non-credit/ part-time studies through our Community Music School, Douglas College can help you to achieve your goals. Our credit programs are listed below.
Our four distinct credit programs
Careers in Music
Music Educator
Music Director
Music for Video and Gaming
Live Music Production
Instrumentalist
Private Music Instructor
Instrument Repair
Entertainment Business Lawyer
Student Success Story
Grad Antonio Larosa kicked off his music career with a certificate program.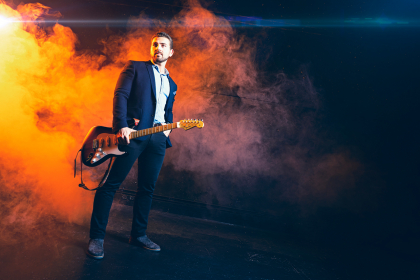 Turning his career up to 11
Brad Pearson is a rocker and virtuoso-in-the-making who refuses to play just one genre of music.
Want more information?
For information about admission requirements, courses, intake dates and more, visit the Program and Course Catalogue.
Read More