Olga Nikolajev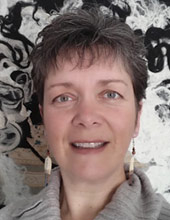 Olga is a death educator, certified in Thanatology, the study of death, dying, loss and bereavement. Olga is a dying well advocate, nurse educator and grief counselor with over 25 years of professional experience as a registered nurse in various health care settings, including hospice palliative care. Her educational history includes a degree in Anthropology and Psychology, a Master's degree in Religion and Culture, and an interdisciplinary certificate in palliative care.
Olga has been involved in national, provincial and local efforts to shift the way we view the dying experience, death and grief, including end of life care. She served as one of the founding faculty members for the Virtual School for Community Deathcare in Canada and is currently facilitating on-line Thanatology program courses through Centennial College, and travels across Canada to offer End of Life Doula training through Douglas College. Olga is the founder and director of DyingMatters.ca a Death Education and Death Doula services business, and is the founder and director of the Death Doula Ontario Network. Olga lives in Eastern Ontario with 2 dogs and 2 cats.  
---
Jennifer Mallmes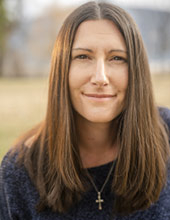 Jennifer has spent the last 20 years as a caregiver to persons at the end of life, beginning of life and the in-between. She is a mother of 5 and resides in the lower mainland of BC. Jennifer is a registered Community Health Worker, a birth doula, and a practicing end of life care doula. She received her Bachelor of General Studies in Sociology/Gerontology from SFU in 2009 and is currently completing a Master of Arts in Community Studies. She developed the End of Life Doula curriculum in partnership with Douglas College and is a Director of the End of Life Care Association of Canada. Jennifer's passion for quality end of life care inspired her to share her experience and empower others to fully live out their life. 
---
Tracy Chalmers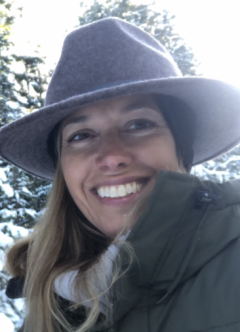 Tracy is energized by doing what she can to increase the quality of end of life care in her community. Tracy is an end of life Doula, supporting individuals and families through the end of life journey.  She is a founding director of the End of Life Doula Association of Canada, a national initiative to create a centre of excellence for the end of life Doula role.  Tracy is passionate about sharing her experiences and knowledge about supporting the dying and their people by facilitating the End of Life Doula course offered by Douglas College.  
She also facilitates the The Elements of Ceremony End of Life Ritual Training , a collaborative offering with BeCeremonial. . Tracy is deeply honoured to spend time with people facing end of life and their families at her weekly volunteer shift at her local Hospice. She has taken on a mentor role at the Hospice and is also a member of a group of volunteers who sit vigil for people who are actively dying in local care homes.  She is currently growing The Grief Well with Willow Meili, a passion project that seeks to create more literacy and space for grief through a compassionate community's approach. It is Tracy's wish to put this end of life phenomena in a more positive and empowering light and to help prepare people for dying more consciously and peacefully.
---
Mary-Anne Parker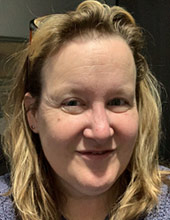 Mary-Anne is an End-of-life-Doula and loss navigator who helps clients and their families work together to find a meaningful path during life's transitions. A former Health Care Aide and Recreation worker, she has spent over 8 years working within long term care environments and is thrilled to be working as a Death Doula and companion. She is proud to be one of an incredible team of instructors for Douglas College's End of Life Doula course and travels all over Alberta and Saskatchewan mentoring others who are interested in exploring this new field. She firmly believes that talking about death and loss allows us to be better for each other. The journey starts with just one conversation.
She recently completed a Master of Arts in Interdisciplinary studies with a focus on the End-of-Life Doula role in end-of-life care.  Her final applied project explored both the practical elements and philosophical approach to comfort care.  She has noted that the End of life doula approach is both intuitive and responsive, that care needs are as individual as the recipient and that talking about death is a way of appreciating life. 
In addition to teaching for Douglas College she is currently the Administrative and Development Coordinator for the Saskatchewan Hospice and Palliative Care association. She lives in Saskatoon with her husband, parents, children, grandchildren, and Welsh terrier. They live with a multitude of unfinished art projects.
---
Linda Franchi, BA, M.A. Ph.D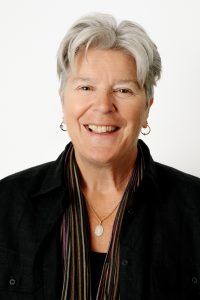 Linda began her End-of- Life Doula training completely by accident when her dear friend chose to die at home decades ago.  As an educator and counsellor, Linda has been involved in direct community service related to health, access to services and death and dying for more than 30 years.  Linda continues to educate and serve by providing practical, emotional, and spiritual support to individuals and their families.  
As a working Doula, she has served in community, hospice, palliative care wards and at in person home deaths. She cherishes the reverence of bearing witness and being present with End-of-Life clients. In keeping with a "nonjudgmental service model", Linda has journeyed through medical assisted in dying processes with End-of-Life clients and their families. She embraces the motto "be with and bear witness" to the universal needs and unique experiences of dying people and their loved ones. Linda's focus is to provide options and quality of life by being present to clients whose lives are coming to an end. She is dedicated to creating safe spaces for exploring and developing end of life literacy in culturally and personally empowering ways.  
Linda completed her BA in Psychology, Seattle, Washington, her M.A in  London, England and her Ph.D at Simon Fraser University in British Columbia. She is fluent in American Sign Language, is a community counsellor and currently works part-time with chronically Ill individuals and their care partners.. She is a registered spiritual director.  Linda is a member of the Death Doula Network of BC and currently serves as the President of the End-of-Life Doula Association of Canada.