Your Accessibility Specialist will work with you and your instructors to create and follow an accommodation plan. The picture below shows the steps in the planning process.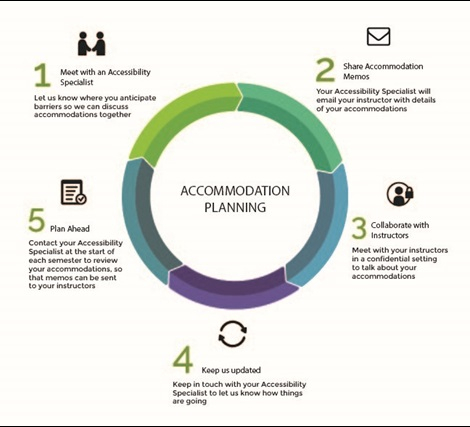 Common accommodations include:
Visit the Accessibility Services Portal for Students to
View your accommodation memos
Request your accommodation memos be sent to instructors
Request changes or additions to your accommodation memos
Schedule tests and exams you will be writing with Accessibility Services
Need help?
Virtual Orientation Sessions
Accessibility Services is pleased to announce that we will be providing some virtual orientation sessions to all students with approved accommodation plans to help you navigate the processes for accessing your accommodations. We want everyone to have the opportunity to learn the steps needed to access your approved accommodations. This brief session (1 hour maximum) will cover:
Accommodation approval expectations
Alternate format accommodations
Testing accommodations
Assistive technology accommodations
Communication access accommodations
Notetaking accommodations
Renewal of accommodations
Sessions are held on Mondays at 10:00 AM (Sept 12 & 26) and Fridays at 2:00 PM (Sept 9, 23 & Oct 14).
To register for a session, please visit: https://douglascollege-ca.zoom.us/meeting/register/u5cqdOCrqTwtHNKWx-vY4Mi1xznTkgy2Dm9C
If you are unable to join a virtual session please check out one of our pre-recorded sessions – https://youtu.be/nDQ7cDoJg4Y
Video Tutorials
1. Logging into the Student Portal
2. Requesting Accommodations: Introduction

3. Requesting an Accommodation Letter: No Changes Required 

4. Requesting an Accommodation Letter: Changes Required

5. Requesting Alternate Format Materials