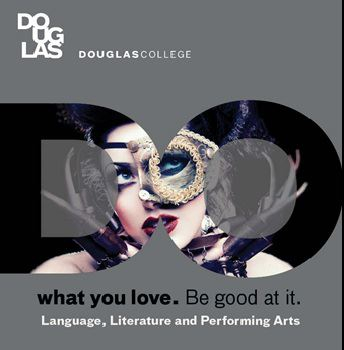 Douglas College Performing Arts
Douglas College offers a range of Theatre, Music, Creative Writing and Amelia Douglas Art Gallery events that are open to the public.
For more information about programs in the performing arts at Douglas College, please visit the Faculty of Language, Literature, and the Performing Arts 
Arts in the Afternoon - All shows are in the Laura C. Muir Theatre + begin at 3pm. Performances are FREE and no tickets required.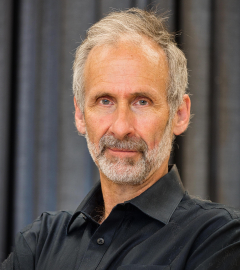 Dr. Barrington has taught in the music department at Douglas College in New Westminster since 1984. His teaching duties include private studio lessons, class piano and chamber music. He is currently the head of the keyboard division.
Barrie earned both his MMus and DMA from UBC and studied with the renowned pianist, Robert Silverman. 

Trigger Warning: Suicide
Kim Trainor is the granddaughter of an Irish banjo player and a Polish faller who worked in logging camps around Port Alberni in the 1930s. Her second book of poetry, Ledi, was a finalist for the 2019 Raymond Souster Award. A thin fire runs through me will appear with icehouse poetry / Gooselane Editions in the Spring of 2023. Her poetry films, created with the musician Hazel Fairbairn, have screened at the ZEBRA Poetry Film Festival 2020 and the 9th International Film Festival in Athens, Greece, 2021. Ledi was recently performed live as part of the "Assembly" exhibit at the New Media Gallery in New Westminster in Fall, 2021. Recent poems have appeared in Otoliths, Fire Season, Women and Environments International, Anthropocenes (AHIP), Dark Matter: Women Witnessing, Ecocene, ISLE, and Ecozon@. Her poetry has also been anthologized in Dark Mountain (UK) and Fire Season I and II (Vancouver). Together with artist Amy-Claire Huestis, and with a generous RPG grant from the College, she is curating "walk quietly / ts'ekw'unshun kws qututhun," a guided walk at Hwlhits'um (Canoe Pass) in Delta, BC, that features contributions from artists, scientists, and Hwlitsum and Cowichan knowledge holders. An instructor in English at Douglas College, kʷikʷəƛw̓əm, Kim is co-chair of the faculty association's Climate Emergency Action Committee and lives in Vancouver, traditional homelands of the xʷməθkʷəy̓əm, Skwxwú7mesh, and səlil̓ilw̓ətaʔɬ Nations.
Hazel Fairbairn is a fiddle, viola and violin player/sound artist, who currently works with electronic regenerations and manipulations of acoustic sources and instruments. 
Since creating a strings-based score for Kim's film realisation of her long poem Ledi, which was performed live in Fall 2021 at the New Media Gallery, she has created experimental scores and soundscapes for Kim's poetry-film series 'Seeds' and " Signs / She Shum Qun", Kim's poetry film for "walk quietly / ts'ekw'unshun kws qututhun
With roots in Irish Folk music, and a PhD in ethnomusicology, Hazel has also studied Carnatic violin, Balkan folk fiddle styles, Cajun, Zydeco, Bluegrass and Old Time music and is endlessly curious about the way sound connects cultures, migrations and the natural world. 
Born and raised in the UK, Hazel moved to BC with her partner, producer Mark Russell in 2012, after touring Canada many times with their global fusion band Horace X in the 2000's.
Link to poem description:  https://bookhugpress.ca/shop/author/kim-trainor/ledi-by-kim-trainor/ 
Rup Sidhu is an interdisciplinary artist, musician, producer and composer. Specializing in vocal percussion and live looping, his sound blends the rhythms of poetry and spoken word with a dynamic range of cultural hybridity. Inspired by folk and classical forms of music from around the world, his musical expressions range from groove oriented hip hop beats, to contemporary fusions of classical ragas; scores for the National Film Board of Canada and remixes of vintage bollywood tunes, to experimental compositions for dance and theatre productions. Rup has facilitated and taught musical programs in universities, public schools, youth prisons, and communities throughout Canada, USA, UK, and India. Rup has produced fourteen albums with emerging artists, including American Pie, Shane Koyzan's debut release. Current collaborative projects include: Aluma Sound, Blue God and the Serpents, Jhalaak, Ruby Singh and Metaphor. Rup's solo live looping show, RupLoops, has toured more than 500 shows across Canada.
​
Rup has shared stages with and performed alongside Fred Penner, Raffi, Chugge Khan, Rajasthan Josh, Tanya Tagaq, Shane Koyzan, Delhi2Dublin, Michael Franti, and Jeet Thayil. Performance highlights include the Jaipur Literarature Festival (Jaipur, India), Vancouver Folk Music Festival, Vancouver International Children's Festival, Aga Khan Museum (Toronto, Canada), World Body Percussion Festival (Toronto, Canada), Globalqurque (New Mexico, USA), Indian Summer Festival (Vancouver, Canada), Mehndi, Masala, Musti (Toronto, Canada), Stern Grove Festival (San Francisco, USA), Shambhala Music Festival (Canada), Vancouver International Children's Festival, Vancouver International Storytelling Festival, Vancouver International Jazz Festival, New Forms Festival (Vancouver, Canada), Oregon Country Fair (Eugene, USA), Fete de la Musique (Berlin, Germany), Fusion Festival (Berlin, Germany).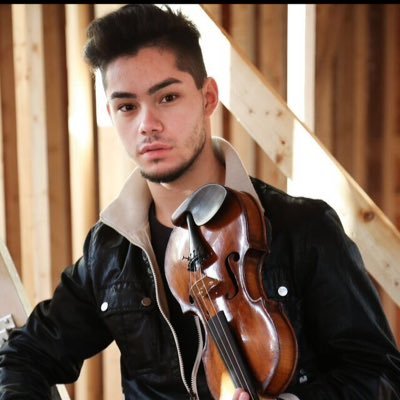 Twenty-three-year-old violinist, Royce Rich, is establishing himself as one of Canada's up-and-coming young artists. Having been listed as one of CBC Music's top "30 Under 30 Hot Classical Musicians" of 2021, Royce has appeared on concert stages as soloist and chamber musician across Canada, the USA, Italy, and Germany. He has performed as guest solo artist with the Brampton Symphony Orchestra, Lions Gate Sinfonia Orchestra, Durham Chamber Orchestra, Smazal Chamber Orchestra, and twice with the Vancouver Youth Symphony Orchestra. In March of 2021, Royce was thrilled to have self-produced and released his debut solo album of beloved encore pieces with pianist, Jeanie Chung. Entitled Short Stories, his album is currently available to stream and download on Apple Music, iTunes, Amazon Music, and Spotify.
Royce completed his formal post-secondary classical music performance training at The Glenn Gould School of The Royal Conservatory of Music in Toronto, where he obtained his Bachelors of Music Degree, as well as completed one full year in the conservatory's Artist Diploma Program as a full-scholarship recipient of The Jack Whiteside Scholarship. Royce started taking violin lessons and performing at the age of five years old – he has studied with some of North America's leading violin pedagogues, namely, with Victor Danchenko, Martina Smazal, Taras Gabora, and Mayumi Seiler. Aside from keeping a busy performance schedule and maintaining a violin teaching studio, Royce loves running, cycling, swimming, hiking, cooking, and getting together with friends over a dessert and a cup of coffee.
Active as a recording artist, this spring, Royce is thrilled to premiere and record a showpiece dedicated to him by English composer, Paul Ibbotson, entitled Trapezo Caprice. He also looks forward to recording Nathan Milstein's Paganiniana Variations where he will release his recordings on all streaming platforms. As a violin pedagogue, Royce was invited to assume the position as head violin faculty at Showcase Music Academy Schools in both Richmond and Vancouver. 
Theatre Productions
All shows are in the Laura C. Muir Theatre for the Performing Arts:
Friday, November 4: Opening Night 7:30pm
Saturday, November 5: Matinee 2:00pm
Saturday, November 5: 7:30pm
Tuesday, November 8: 7:30pm
Thursday, November 10: Closing Night 7:30pm
Check back soon for the link to purchase tickets through Eventbrite!
All shows are in the Studio Theatre:
Thursday, November 10: Opening Night 7:30pm
Saturday, November 12: Matinee 2:00pm (Livestream available)
Saturday, November 12: 7:30pm
Tuesday, November 15: 7:30pm (Livestream available)
Wednesday, November 16: 7:30pm
Thursday, November 17: Closing Night 7:30pm
Check back here soon for tickets sales via Eventbrite!
Amelia Douglas Gallery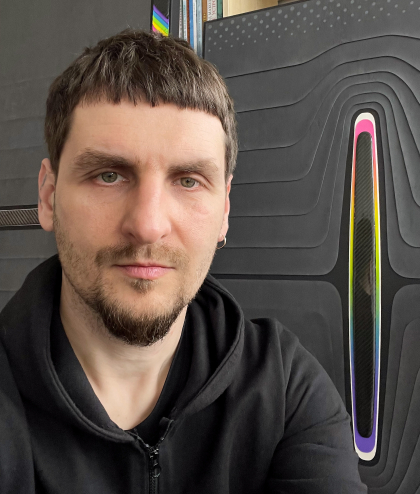 Please join us for the opening reception at 5pm on September 13 in the Amelia Douglas Gallery, followed by an artist talk at 7pm in room N2203!
Admission is free. 
THE ARTIST
Daniil Alikov (b. 1980, Russia) is a Canadian visual artist currently based in Richmond, BC.
Alikov is a self-taught artist creating abstract paintings, assemblages and sculptures since 2014.
Daniil Alikov is also a Visual Effects Artist who has been credited in many award-winning blockbuster movies such as Avengers: Endgame, Deadpool 2, Star Wars, and Ready Player One.
A solid background in computer graphics helps Alikov create art, which orients towards scalability and mass production.
#alikov #artistBio #about
THE EXHIBITION
Next Level presents a wide selection of Alikov's work from 2019-2022.
The main theme of the exhibition is the near future and the possible forms of art we could see in the future.
Alikov's designs and techniques are constantly evolving. Earlier paintings were made by manipulating canvas pieces. They were cut to the desired shape and a mixture of acrylics and plaster were applied on top of them. The next stage was layering black stretched canvas. Later works were made as assemblages, combining different fabrics, straps, films, and custom-made elements together without using previously created sketches or maquettes.
Daniil Alikov invites the viewer into the realm of novelty and freedom where everyone is gifted with the chance to make their own decisions about what they see.
#nextLevelShow #alikov #douglasCollege #future
Fall Concert Series
Directed by Eric Hannan
7:30pm in the Laura C. Muir Theatre for the Performing Arts
Check back here soon for ticket links!
7:30pm in the Laura C. Muir Theatre for the Performing Arts
Check back here soon for ticket links!
Directed by Doug Smith
7:30pm in the Laura C. Muir Theatre for the Performing Arts
Check back here soon for ticket links!
Directed by Jill Townsend
7:00pm in the Laura C. Muir Theatre for the Performing Arts
Check back here soon for ticket links!
Directed by Igor Efimov and Doug Smith
7:30pm in the Laura C. Muir Theatre for the Performing Arts