Douglas College respectfully acknowledges that our campuses are located on the unceded traditional and ancestral lands of the Coast Salish Peoples, including the territories of the q̓íc̓əy̓ (Katzie), q'ʷa:n̓ƛ'ən̓ (Kwantlen), kʷikʷəƛ̓əm (Kwikwetlem), xʷməθkʷəy̓əm (Musqueam) and qiqéyt (Qayqayt) First Nations.
Douglas College has long been a proud supporter and champion of our Indigenous students. Our commitment was formalized with the inclusion of Indigenization in the College's 2020-2025 Strategic Plan and the development of a long-term Indigenization Strategy (2019) that responds to the Truth and Reconciliation (TRC) Calls to Action and the United Nations Declaration on the Rights of Indigenous Peoples (UNDRIP).
The College's Indigenization strategy focuses on building an increasingly welcoming campus environment for Indigenous students, faculty and staff; developing meaningful partnerships with Indigenous communities; actively pursuing opportunities to increase Indigenous content in academic offerings; and providing meaningful professional development opportunities for employees.
Creating welcoming spaces
---
Douglas College is committed to supporting Indigenization and reconciliation in ways that are tangible and visible to our communities, our students, our employees and our visitors to campus.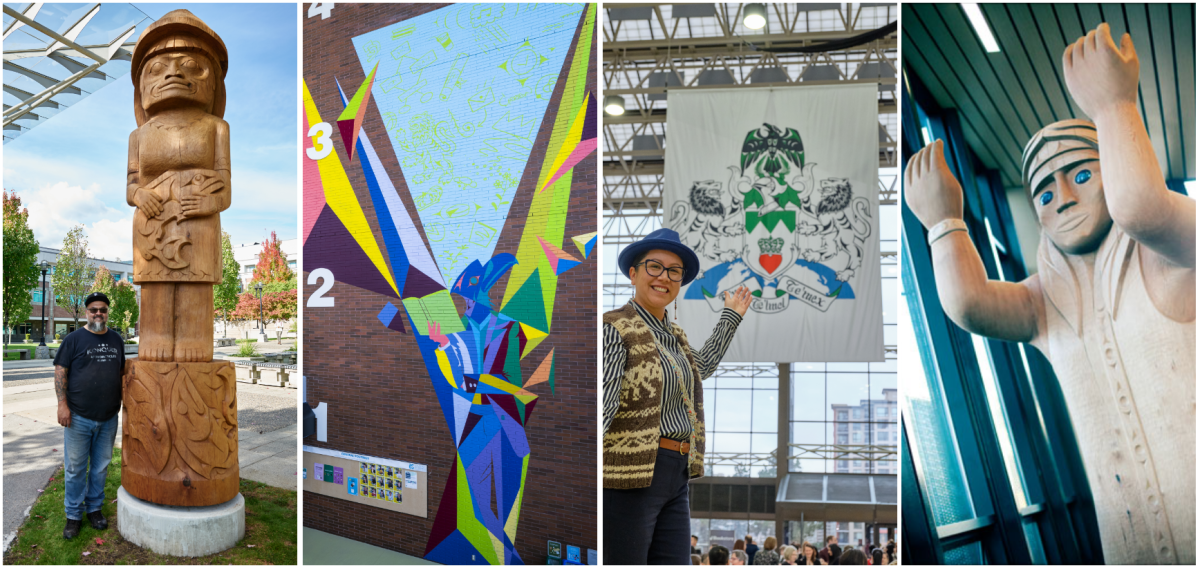 What is present on campus:
Visible and accessible Indigenous artwork including:
Dedicated Indigenous student spaces at both campuses where Indigenous students can study and connect.
Smudging, which is an integral part of creating positive, purified spaces for Indigenous peoples, occurs in the Indigenous Gathering Place or, if the Indigenous Gathering Place is not available, any room on campus with approval.
Annual recognition of, and activities that support, Orange Shirt Day, National Indigenous Peoples Day, National Day for Truth and Reconciliation and more.
Indigenous gardens at both campuses that include plants sacred to Indigenous communities and that hold medicinal and spiritual meaning. Plants are free to be harvested and used by Indigenous students.
 
Indigenous knowledge and experience in the classroom
---
Douglas College is committed to increasing academic programs that have an Indigenous focus, are culturally relevant in content and pedagogy, and are informed and supported by Indigenous expertise.
What is experienced on campus:
Faculties are working with Indigenous educational consultants to understand how to bring Indigenous knowledge and teachings into their curricula.
Indigenous Elders are advising faculty on the development of new programs while also sharing Indigenous stories and histories in the classroom.
The Certificate in Academic Foundations – Indigenous Studies provides fundamental academic courses through an Indigenous lens. Students engage with the histories of Indigenous peoples and territories in a learning community that honours traditional knowledge.
The Indigenous Pathway helps students take their first steps toward careers working with Indigenous children, youth and families. The courses are taught by First Nations, Métis and non-Indigenous allied faculty with Elders' support. The Indigenous Pathway was developed under the guidance of our partners at Vancouver Native Health, Elders and our Advisory Circle members.
The Indigenous Global Learning program provides Indigenous students opportunities to study different Indigenous cultures and engage with other Indigenous students from around the world.
The Bachelor of Science in Nursing, Bachelor of Science in Psychiatric Nursing, Health Care Assisting and Community Mental Health Work programs offer reserved seats for Indigenous students so that they get extra support enrolling into some of our more competitive programs. Our goal with these seats is to encourage our Indigenous students to enrich the health care industry and make it a more inclusive space for them.
 
Professional development for employees
---
Douglas College is committed to addressing the professional development needs of all employee groups in support of Indigenization and reconciliation. 
What is experienced on campus: 
Annual speaker series and professional development days encouraging employees to learn and engage with Indigenous culture. Past examples include:

Being a Good Ally – Introduction to Indigenous Cultures Through Art
The KAIROS Blanket Exercise
Building Relationships and Indigenous Community Engagement
Looking Forward: Indigenous Education and Decolonization
Reconciliation in Post-Secondary Education
Na'tsa'maht shqwaluwun - an "All My Relations" Approach to Supporting Indigenous Learners
Decolonizing Diversity & Inclusion: Txeemsim Attempts to Indigenize Post-Secondary Institutions

Access to an Indigenization Resource Repository that provides information to staff, faculty and administrators to make changes in classrooms, teachings and workspaces.
The creation of a professional development framework that promotes an interactive, self-paced education on Indigenization and Reconciliation for employees in three areas:

Self-awareness – understanding and reflecting on personal positions of power and how a person's cultural biases influence behaviour towards Indigenous peoples.
Indigenous awareness – learning the histories, cultures and lived experiences of Indigenous Peoples across Canada.
Commitment to Indigenization – exploring how the College is committed to Indigenization and Reconciliation as well as how employees can be allies of Indigenization at Douglas College.
Reconciliation link resources
Indigenization in education link resources
Indigenous histories links