Here are just a few success stories from our Psychiatric Nursing program. 
Kaylee Reedel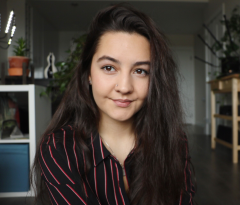 Why did you choose the Psychiatric Nursing program at Douglas College?  
I chose the Psychiatric Nursing program because I was looking for a versatile career that would allow me to make a difference in people's lives and put my strengths to use. As a First Nations woman, I am no stranger to the damaging effects that intergenerational trauma imposes on Indigenous communities, families, and individuals – and I believe this has given me great insight and compassion for others that are suffering.  
What do you like most about the classroom experience in Psychiatric Nursing?
I found that having smaller class sizes was beneficial to my learning. Smaller class sizes allowed for more opportunities to ask questions, have class discussion, and practice teamwork skills. Further, the teachers are passionate about their work and committed to ensuring the best possible learning experience for each of their students. Lastly, this program led me to form strong friendships with my classmates and widen my support system. Psychiatric Nursing is a small world and I love that I can now call my fellow classmates and instructors my colleagues.  
What is the best thing about studying in Psychiatric Nursing at Douglas?
Firstly, the amount of hands-on experience at great clinical placements contributes to a well-rounded knowledge base. Second, Douglas College Psychiatric Nursing graduates are highly sought after in the workplace, so there are many opportunities for new grads. 
How does the Psychiatric Nursing program help prepare you for real-world experiences? 
It taught me advanced communication skills and how to demonstrate assertiveness, which is helpful when it comes to interactions with clients, colleagues, and even in my personal life. Additionally, I was able to build on my problem-solving skills and critical thinking, and apply these skills in clinical practice and my day-to-day life. Furthermore, having to participate in numerous group projects taught me about leadership skills and styles, professionalism, and addressing group conflict.  
Sandra Brydon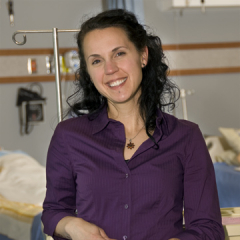 A bit of column A and a bit of column B
The best thing about college is dusting off my brain and learning - being exposed to many different trains of thought, information and styles of teaching is exciting. On the other hand, the worst thing about college is also learning, for the same reasons that learning is exciting - it can also be a little overwhelming because there is a lot to take in and be responsible for.
The craziest moment in class so far
was definitely in our Therapeutic Relations class where actors are playing clients, simulating an escalating or agitated client. At one point the yelling was so loud that a few of the construction workers working on campus came into the room to make sure everyone was okay.
You can't drag it out of me
I won't say who my favourite teacher is because I'm still in classes. I don't want to answer this question.
The most important thing I learned in college
is how to apply what I've learned in the classroom setting to my work environment.
Latisha Pinacle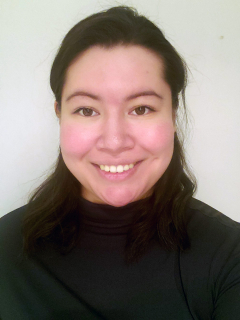 Why did you choose the Psychiatric Nursing program at Douglas College?   
One of my favourite memories as a teenager was watching Criminal Minds with my mom. It's what initially piqued my interest in psychology and my passion for mental health. As an intergenerational survivor of Residential School, I understand the effects of intergenerational and historic trauma. Healing from the past is not something that can be done overnight, and having more Indigenous nurses equates to more potential for Indigenous people to seek help. I specifically chose to be a psychiatric nurse to alleviate the stigma, better understand this field and help my community.  
What is the best thing about studying in Psychiatric Nursing at Douglas?
Douglas College's faculty has modelled what supportive, passionate, and empathetic teachers look like. Even when I found the material too dry to take in, the professors did an excellent job of making the information retainable and the overall classroom experience enjoyable. They managed this even after transitioning to virtual learning during the pandemic. Above all, each staff member has consistently asked for feedback on how to improve their lectures and the program. This has led to an efficient program built on the shared input of its educators and its students.
When you go to your clinicals, you always get a warm response when you say you're a Douglas College Psychiatric Nursing student. I am proud to be a Douglas Psychiatric Nursing student because when a program is as robust as this one is, with strong educators who are supportive and empathetic, it makes the challenge of being a nursing student an enjoyable one. Plus, summers off are nice!
How does the Psychiatric Nursing program help prepare you for real-world experiences?   
This program has taught me a tremendous number of life and career skills. Those skills have given me opportunities I never imagined. Every day, I am reminded of why mental health and nursing are important within our communities, and that excites me to work in this specialty. We spend 14 hours a week in clinicals placed in mental health settings. It is here that I meet nurses and clients that give me hope and respect for humanity – nurses due to their empathy and hard work, and clients due to their resilience and perseverance.
This program has pushed me to be greater and has evolved my communication, knowledge, and interpersonal skills through its courses and interactive scenarios with actors. I am an empathetic and charismatic Indigenous woman; this program is teaching me how to evolve these traits into skills and create a voice for myself and my community.
Ivana Culina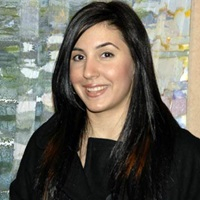 The hardest thing about college
was trying to balance the demands of school, family and friends. They all require time and effort; some more than others. It took me a while to find my course and establish a happy medium. It still can be a juggling act.
College taught me
to think critically and to keep an open mind no matter which situation I encounter at school or out in the community. It taught me the value of an education and how important it is to empower yourself as an individual. Education gave me the ability to stand firmly on my own two feet.
I didn't learn from a textbook
to expect the unexpected and to act quickly on my toes. The situations that you encounter at work could never be explained through a textbook. Textbooks provide a snapshot of a situation but what the workplace teaches you is how your personality, character, feelings and emotions all play a significant role in how you deal with situations and the outcome.
It's too difficult to choose
just one favorite teacher because I have gained so much from many different instructors throughout my years at Douglas College and they have all contributed to who I have become today. I thank all my instructors who have given me an opportunity to learn and explore such exciting and challenging topics and subjects. We have wonderful and knowledgeable instructors at Douglas College who all equally deserve recognition.
The best thing about college
was gaining my independence and the freedom to learn. I realized that there is a wonderful world of exciting and significant knowledge waiting at my fingertips and I just needed to open a book, work in a group, or interact with an instructor.
Chad Miller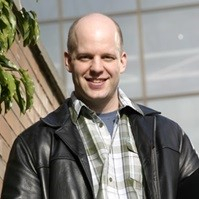 Chad Miller still finds Douglas College innovative, supportive and challenging. Miller's career in psychiatric nursing has evolved alongside the changes in the Psychiatric Nursing program. Once a two-year diploma program, it has now evolved into a full Bachelor's degree. "I think it's fantastic that Douglas College has now developed a Bachelor Program for the Psychiatric Nursing profession. The field is growing and becoming more challenging and complex," says Miller.
After Miller graduated from the diploma program, he then completed the advanced diploma. Now he is working to complete a Bachelor of Science in Psychiatric Nursing. "I was very young when I first entered the Psychiatric Nursing program with no experience in dealing with physical and psychiatric disabilities. Without the strong support from my instructors, I could have easily been overwhelmed," says Miller.
Miller, who works as Forensic Liaison Worker for the Forensic Psychiatric Services Commission, provides psychiatric and social services to mentally disordered individuals in conflict with the law, through short-term transitional interventions. "This program gives me added credibility and a higher profile in my profession. In the future, I want to get involved in some of the groundbreaking initiatives being developed between mental health care and the criminal justice system. This degree will help me do exactly that," he says.