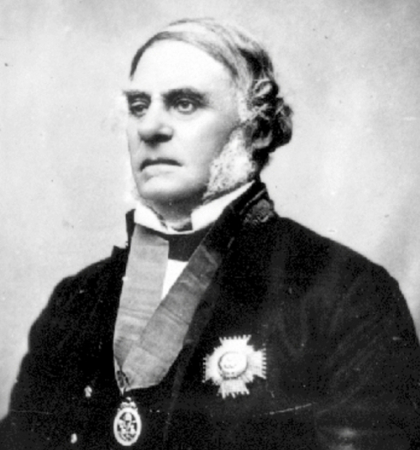 Douglas College is named after Sir James Douglas, Hudson's Bay Company Chief Factor and Governor of Vancouver Island and British Columbia, and husband of Amelia Connolly, a Métis woman of Cree ancestry.
Douglas is often described in popular histories as the "Father of British Columbia." His policies, however, were shaped by his position as a colonial administrator, and did not necessarily represent the interests and concerns of the Indigenous peoples of the Pacific Northwest.
Douglas College is committed to responding to the Calls to Action issued by the Truth and Reconciliation Commission of Canada. This biography of Sir James Douglas is the beginning our process of rethinking how we remember and commemorate the complex, interrelated Indigenous and non-Indigenous histories of our province.
James Douglas shaped, and was shaped by, a 19th-century imperial world that was diverse, dynamic and deeply exploitative.
Although certain details regarding the circumstances surrounding Douglas's birth have proven elusive, it seems likely that he was born in 1803 in the Dutch colony of Demerara (modern-day Guyana), the son of John Douglas, a Scottish merchant involved in the cotton and sugar industries in the eastern Caribbean, and Martha Ann Ritchie, a "free woman of colour" (that is, a mixed-race woman who was not enslaved), about whom little else is known. After a brief educational stint in Scotland, a teenaged Douglas began an apprenticeship with the North West Company, a major commercial entity active in the northern North American fur trade, in 1819, eventually serving in several posts (or "factories") scattered across those vast territories north and west of the Great Lakes that now comprise Western Canada. In the late 1820s, Douglas married Amelia Connolly, also a mixed-race woman, whose mother, Miyo Nipiy, was First Nations (Cree), and whose father, William Connolly, was a "Chief Factor" in the Hudson's Bay Company (or HBC, which had merged with the North West Company in the early 1820s after a heated rivalry), who was of Irish descent.
Described by a superior as "a stout, powerful, active man of good conduct and respectable abilities," Douglas became governor of the British colony of Vancouver Island in 1851, and of British Columbia, a separate colony initially confined to the mainland, in 1858. (Douglas governed both colonies simultaneously until his retirement in 1863, although his assumption of the latter position required him to sever his links to the HBC, which enjoyed substantial economic and political power over much of the Pacific Northwest.) As governor of Vancouver Island, Douglas took pains to negotiate upwards of a dozen treaties with First Nations in hopes of extinguishing those groups' claims to their territories and facilitating non-Indigenous settlement, while as governor of British Columbia he introduced British "law and order" into a volatile environment that was predominately First Nations and that had recently experienced a destabilizing influx of American prospectors drawn to the colony by the Fraser Canyon Gold Rush.
Douglas has received considerable praise for his vigorous, multifaceted efforts to entrench imperial influence and promote settlement in the Pacific Northwest – evidence of which are glowing descriptions of him as the "Father of British Columbia." Yet it would be inaccurate to portray Douglas as a wholly positive figure. On the contrary, his tendency toward arbitrary governance – contemptuous of democracy, he concentrated as much power as possible in his own hands and in those of appointed associates – and capacity for cruelty – he was responsible for violent acts (or what he called "wholesome terror") against First Nations seen as threats to settlers' interests – justifiably evoke disdain, if not disgust, from modern-day observers.
Rather than seeing him as fundamentally "good" or "bad," a more fruitful – and historically sensitive – perspective would be to understand Douglas College's namesake as an embodiment of the highly diverse, endlessly fluctuating, frequently unjust imperial world of which he was a product, and to which he made important contributions.
Who was Sir James Douglas?