The welcome figure at the Coquitlam campus, titled "Salmon Woman Welcomes Salmon Home," was designed and carved by Coast Salish carver Gerry Sheena. The figure was commissioned in 2020 to commemorate Douglas's 50th anniversary.
The carving took place from October to December 2020, and the figure was raised in October 2021 on the southeast lawn next to the Sol Garden. The carving welcomes visitors as they access the campus from the corner of Pinetree Way and Town Centre Boulevard.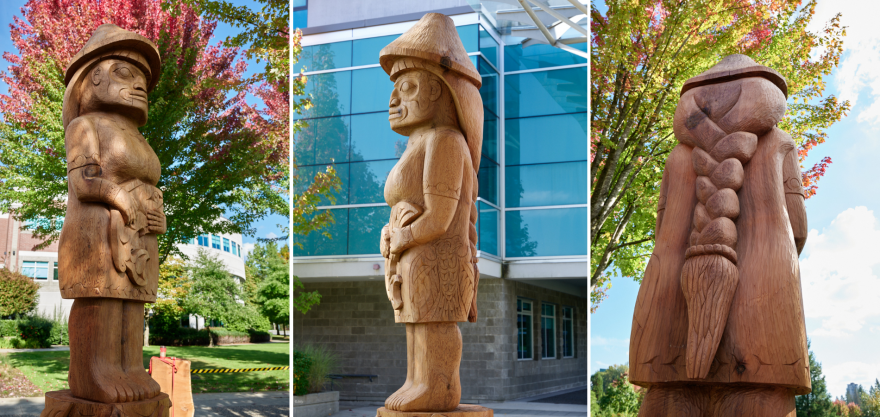 Artist's statement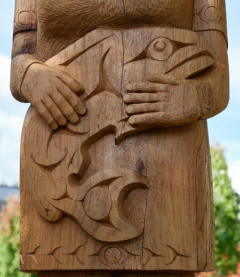 A woman holds a salmon and raises her hand in a gesture of welcome to students and employees, as well as to the salmon as they swim up the nearby Coquitlam River. The salmon represents the Kʷikʷəƛ̓əm (Kwikwetlem) Nation, on whose traditional territory the Coquitlam Campus is located. Red cedar was chosen for the figure because of its significance in Coast Salish culture: It's known as the "tree of life" because of its many uses for the Coast Salish peoples, serving as material for everything from canoes and housing to baskets and clothing.
"The woman symbolizes the education needed for one's journey. She also symbolizes the Welcoming, of the students and the Salmon. She nurtures the young and prepares them for their long journey. As does the College. She is a symbol of strength and of hope for all living things." – Gerry Sheena, artist
About the artist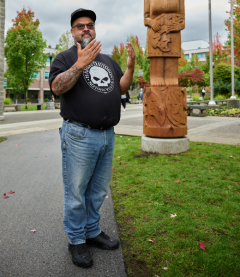 Gerry Sheena is an Indigenous carver from the Lower Nicola Band. He grew up on the West Coast and studied fine arts at both Langara College and Emily Carr University of Art and Design, as well as jewellery art and design at Vancouver Community College. Though he was introduced to carving at a young age, he didn't start seriously carving until adulthood, and what began as a hobby expanded unexpectedly into a profession.
Gerry is mainly self-taught and combines modern techniques with a traditional Salish style. In over 30 years of carving, Gerry has produced carvings of various sizes, both publicly and privately commissioned, that have been exhibited and sold in galleries throughout B.C. Gerry is passionate about sharing his knowledge and mentoring youth, and he enjoys working on art projects that engage the community.
Video interview with the artist