Continue your orientation journey in-person. Visit our campuses to familiarize yourself with the layout, such as where to find the Library, Fitness Centre and Bookstore, and meet your peers face to face at our in-person events.
Friday Hangouts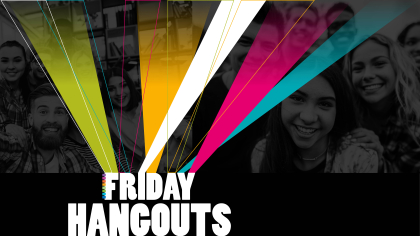 You've made it through the first few weeks of the semester! It's time to have some fun and meet new people outside of the classes! 
Join us at Friday Hangouts! Friday Hangouts is an in-person bi-weekly event to keep you connected through the semester. Each hangout has a different theme with fun, interactive activities. You'll connect with your peers, play games and learn tips and skills to help you succeed at college. Register for any of the dates below that interest you - or all of them! 
Plus, every time you attend a hangout you'll have a chance to win awesome prizes!
We can't wait to hangout with you!
Questions? Please email studentlife@douglascollege.ca. 
New Student Campus Tours
In-person tours for new students
Starting classes on campus for the first time? Continue your orientation journey in-person by attending our campus tours. Campus tours will be offered during the orientation sessions and during the first week of classes at both campuses. Connect with Student Life (studentlife@douglascollege.ca) to sign up for an in-person tour of the New Westminster or Coquitlam Campus. Familiarize yourself with where your classes are located, where you can find student services and more.
Prefer to explore the campus virtually? Take a virtual 360º campus tour and visit from the comfort of your home.
---
Prospective Student Campus Tours
If you're a prospective Douglas College student, connect with Future Students' Office to sign up for an in-person tour of the New Westminster or Coquitlam Campus.
Photos of Student Life events