As BC's largest degree-granting college, Douglas has a responsibility to play a leadership role in the transition to a sustainable economy. Our Strategic Plan for 2020-25 includes initiatives that will move us towards a zero-carbon, more sustainable future. This includes plans to reduce the environmental impact of College facilities and operations, increase the amount of curriculum dedicated to climate change and sustainability, increase engagement in climate change and sustainability issues in our communities, and ensure administrative policies and processes include climate change and sustainability considerations. 
To address the impact of our most direct greenhouse gas emissions (sometimes called Scope 1 and 2), Douglas is developing an energy-transition plan to substantially eliminate fossil fuel use in campus operations. This plan will guide our move to a low-carbon future, in advance of the targets set by the B.C. government. 
To address indirect greenhouse gas emissions (sometimes called Scope 3), Douglas will be developing an extended emissions reduction strategy, aimed at addressing emissions from sources such as commuting, air travel, food and waste.   
Sustainability tracking and assessment program (STARS)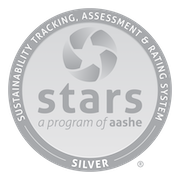 To measure our progress towards sustainability in a broad-based, holistic way, Douglas College participates in the Sustainability Tracking, Assessment & Rating System (STARS) program. STARS is a voluntary, self-reporting program that post-secondary institutions across the globe use to measure their progress toward sustainability goals. STARS is helping Douglas establish benchmarks, identify potential areas of improvement and inform our future sustainability goals.  
An initial assessment was conducted in Fall 2022, and Douglas College was awarded a silver STARS rating.  The College is now developing a plan to achieve gold by 2025.
Major initiatives
For over a decade, Douglas College has been working to reduce our environmental footprint. Through the following initiatives, we strive to become a leader in environmental sustainability in the post-secondary sector.
808 Royal, a new flagship academic and student housing building at our New Westminster campus, will be Step Code 4 on the energy efficiency scale. Douglas is also aiming for 808 Royal to have Zero Carbon certification. (To be completed in 2026) 
A building envelope upgrade for the A/B building on our Coquitlam Campus will reduce the College's energy usage for indoor lighting, heating, cooling and ventilation, which will save up to 325,000 kilowatt hours per year or equivalent greenhouse gases of 60,125 kg of CO2 per year. (Started in 2021) 
A major renovation to the Enrolment Services area at our New Westminster Campus used wall insulation made from 1,690 pairs of recycled jeans. Producing insulation from jeans creates 53 percent fewer CO2 emissions than producing insulation from conventional fibreglass. (2020) 
The College has been carbon neutral since 2010. 
Lighting fixtures at the New Westminster and Coquitlam campuses have been upgraded to LED lighting with motion detectors, which dim the lights or turn them off when not in use. (since 2014) 
New Direct Digital Controls (DDC) allow us to measure and adjust the amount of energy we use. (since 2015) 
High-efficiency chillers have been installed at both campuses to cool our buildings. (2018) 
Double-glazed windows have replaced single-pane windows at the New Westminster Campus. (2020) 
Bottled water is no longer offered for sale or for catering requests on campus. (since 2019) 
Thirty-four bottle-filling stations have been installed on both campuses. These stations have saved over two million plastic bottles. (First five water bottle-filling stations were implemented in 2012.) 
The New Westminster Campus uses condensing high-efficiency boilers that reduce the energy needed to heat water. (since 2020) 
The Coquitlam Campus uses draft controllers that improve boiler efficiency and reduce wasted energy from heat loss through idle boilers. (since 2011) 
Low-flow faucets have been installed in the washrooms at both campuses. These faucets reduce water usage by 82 percent. (since in 2010) 
Four-stream recycling was introduced in 2016. 
A metal, polystyrene and battery recycling program was introduced in 2018. 
Used electronics, including computers, printers, microwaves and TVs, are donated to the Electronic Recycling Association of Vancouver for re-use or recycling. (since 2020) 
Used technology, including laptops, phones and tablets, are donated to The Purpose Society as part of their program to provide mobile technology to people who cannot afford it. (since 2021) 
Boxes from shipments are re-used for internal deliveries. (since 2018) 
Hand dryers produce 79 percent less CO2 emissions than traditional hand dryers have been installed in all washrooms. These hand dryers reduce the use of paper towels and remove 99.97 percent of bacteria and viruses from the air by pulling it through a filter before it reaches your hands. (2019) 
Printers are programmed to automatically print double sided. (since 2014) 
Campus cafeterias offer a $0.25 discount on hot beverages for patrons who bring reusable mugs. (since early 2000s) 
All take-out containers are either recyclable or compostable. (since 2020) 
Compostable water cups have replaced plastic cups. (2020) 
Paper straws have replaced plastic straws. (2021) 
Carafes for milk/cream are used by catering services wherever possible to reduce the use of single-use creamer cups. (since 2019) 
Ceramic plates and metal cutlery are used for catering instead of disposable cutlery. (since 2019) 
Food is served on ceramic plates unless customers request a takeout container. (since 2008) 
Wooden stir sticks have replaced plastic stir sticks. (2018) 
Douglas College joined the Feed BC program, which promotes the use of locally grown food and food products. (2021)
Our Coquitlam Campus features five greenspace courtyards. Each courtyard showcases a different part of B.C.'s geography. As they're native to B.C., these plants require less maintenance than non-native plants, are drought resistant and create homes for insects and birds. (2021)  
Green rooftop decks at both campuses reduce the amount of storm water runoff that flows into city systems, which in turn slows surges of rainwater and reduces the risk of flooding, sewer system overflow, and pollution of lakes, rivers and seas. (since 2010) 
Green roofs also reduce heat fluctuations from the sun and air, which in turn decreases the energy demands needed to cool the buildings. 
The green roof at the New Westminster Campus is planted with sedum, which is drought tolerant, meaning it requires less water and less maintenance than traditional grass.
Douglas College is one of the only post-secondary institutions in B.C. to have all major campuses on SkyTrain lines, meaning our students, employees and visitors can more easily get to the college without having to drive. 
Douglas supports the U-Pass system, providing our students with affordable, sustainable transportation options. 
Douglas provides staff with a Go Green Benefit that covers the cost of a monthly transit pass. 
Electric vehicle (EV) charging stations are available at both campuses to encourage the transition to low-carbon vehicles. (since 2018) 
The Institute of Urban Ecology is a non-profit organization within the Faculty of Science and Technology that offers free environmental education workshops to the Douglas College community and the public. They also conduct community-based research projects that tackle urban sustainability issues. 
The Institute of Urban Ecology maintains the Sol (Sustainability, Outreach and Learning) garden at the Coquitlam Campus, which is used to teach students and the public about sustainable practices in urban gardening. 
We offer two-year diplomas in Environmental Science and Environmental Studies that explore topics such as: 
Human impact on the environment 
Issues in climate change, biodiversity, food, energy, deforestation, pollution (of air, land and water), water resources, oceans, fisheries and urban environmental management 
Creating environmentally sustainable urban areas 
Pollution prevention and waste reduction 
We offer the Practical Energy and Advanced Knowledge (PEAK) program, which trains building managers in the areas of green technology and sustainable management.  
The LEED Green Associate course prepares students for the LEED Green Associate exam. This course provides general knowledge of green building practices and is a stepping-stone to more advanced LEED credentials.