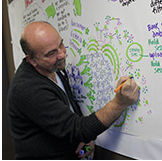 My Story
I started working part-time at Douglas College in 2015.  As the Director of Training and Research for Spectrum Society, I met instructors from the Disability and Community Studies program over the years as a guest speaker and really enjoyed the students.  An instructor asked me if I had thought of applying to teach, and I never had considered it, but decided I would.  I was very happy in my work, but by the end of the interview, I was excited about these new questions.  I remember showing up for the interview just being kind of interested, and leaving and walking down the hallway thinking, "I really want to work here!"  I was glad when they called to say I had been hired.
I myself am a product of the college system.  I left high school early, had no intention of returning, but then I was encouraged to try a college course, loved it, and moved into a diploma, then a degree and continued on into graduate studies and, finally, Doctoral studies. 
My Career
On my first day working at Douglas, I went to a training session on how to use the classroom technology and the trainer said, "a thing you will notice is that people hold the door open for you – if they go through the door without holding it, they are probably visiting."  This has been pretty much true – most of the people who don't hold the door do ask me for directions a few minutes later.  I think it is also a great metaphor for our community: we hold the door open for people who want to join us in a dialogue about what it is to be human, to be a learner, to be part of a community, students, guests, faculty, and all those important people who support all of us to do what we do, together.
I began working as a half-time instructor and right from the beginning, the Coordinators of my program supported me to give my best to our students by placing me in areas where I had both working and academic expertise.  I have taught about a dozen different courses over the last four years – and I love it.  Like everyone that I have met here, I work here because of the students – they blow me away.  They come from such diverse backgrounds and many of them have dealt with so many things, and continue to juggle many needs in their lives. My favourite part of what we do is to welcome a diversity of ages, cultures and genders.  I really love looking around my classrooms at how different everyone is and thinking about what we all offer to each other and creating opportunities where that happens.
In the class I have taught most often, I regularly had students from the Aboriginal Stream of the Child, Family and Community Studies program and I enjoyed what they brought into the classrooms.  I felt I was always learning from them, and I was appreciative.  Then, through a series of circumstances, I was invited to Qualify to Teach (QTT) there.  The QTT process is really an assessment of whether one has enough expertise to comfortably teach a course. After hearing about some of what I have learned as a researcher about indigenous methods, as an instructor, as a social scientist from my community, and as a service provider, I was welcomed into the Aboriginal Stream program.  Again, it was the questions that made me want to get more involved.  I began teaching one course in the Aboriginal Stream, loved it, and am now the Acting Coordinator of the program.  It continues to be the questions of the students that compel me. 
We really have a "dream team" of incredible instructors and thinkers, and I'm excited about what we all might do together.  As a team, we are constantly re-thinking our approaches to ensure that they are culturally safe and pedagogically sound in terms of indigenous education as well as academic expectations.  We are so lucky that the College really understands and supports the need for the involvement of Elders as they help us not just with information but with processes and thinking things through.  I become increasingly convinced that, as one curriculum expert wrote, not only is indigenous pedagogy good for indigenous students, it is good for all students.  In B.C. education and we know this now and it is an important part of K – 12 curriculum, but we are still addressing gaps from the past in higher education.  It is yet another example, I think, of the opportunity that the Truth and Reconciliation project brings to all of us and it is a gift to be part of it.
My Growth
One of the great opportunities that working at Douglas has provided to me is being able to bring my community connections to work and vice versa.  I have been a leader in the field of disability supports as a Director of one of the best practice organizations in Canada for thirty years, and it is a sheer pleasure to do things like bring students with me as co-presenters to our provincial conference, where they are so welcomed by the leaders in our field.  As in my own experience, these students make our current leaders hopeful in a new way.   I am intimately aware of the new thinking our field needs and I know these students, given the opportunity, will make it happen.  Most recently, I've I have been able to connect some of the indigenous folks I am meeting and working with to community agencies who want to know how to better serve that population. 
One of the best moments of my life was when our indigenous students came back after just a couple of weeks of working practicums in the community and told me that they were meeting indigenous children who "don't know what we know now, and they should."  They had a strong vision of wanting to figure out how to bring those younger students into Douglas to show them early on what they might do here as adults.  What a sign of program success! 
I have really enjoyed the opportunities to learn about educational best practices that Douglas has made available to faculty. For example – f, in Open Education week we got to learn about students using Wikipedia for assignments that had a further reach than anything we've expected and, on Professional Development days we've been able to learn we learned about new ways to think about relational education from local experts, and I've. I have also learned a great deal about integrating technology into for education from the IT folks and my colleagues. It seems like there are infinite opportunities for learning, which is part of what I want in a job. 
Douglas has supported me in a research project of my own, which led to me presenting in Brussels to an interdisciplinary group of academics and students interested in social constructionism and arts-based research.   As I specialise in co-hosting open dialogues in partnership with people with disabilities my students are always invited to our public events.  It makes for lively, useful class conversations about what's happening here and now in our culture. 
My Inspiration
I really look forward to coming to work.  I had expected to retire soon, but now I am thinking I'll teach for ten more years!  My colleagues are so actively supportive and engaged; my students work so hard and have such great ideas that the world needs; and I can see that Douglas prioritises partnering and building all the communities that we are part of, and I like being part of that. I recently went through the early stages of being invited to look at a different job in a larger university and, just as I made the short list, which was exciting as it offered lots of opportunities, I decided to withdraw my application.  I like this focus on "belonging" that we have here; there is a huge and increasing body of research about how belonging is critical to our health as individuals and a community.   And, now I get to be part of holding that door open. 
As my Metis great-grandmother might have said, Meena kawapimitin (see you soon!).