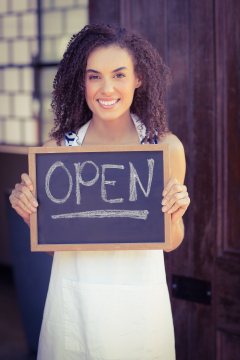 Where successful entrepreneurs begin!
Douglas College Self-employment services is one of the largest and most successful entrepreneurial training programs in Canada. An experienced SE Team of business consultants lead participants through dynamic, hands-on training to develop the skills and knowledge needed to start and operate a successful business.
Business planning, classroom training, professional mentoring and group support ensures entrepreneurs acquire the tools needed to plan, launch and grow their business. More than 4,000 businesses have been launched through Douglas College Self-employment services since 1995, contributing significantly to our communities and economy.
Program Overview - 48 Weeks
Phase One | Business Concept Development
Participants will begin to plan out the basic elements of their business concept including identifying product or service options, conducting preliminary market research, exploring financial projections, mapping out business operations and more.
Phase Two | Business Plan Development
Participants will prepare a comprehensive business plan using our detailed and proven planning process. Participants can take part in classroom sessions, access online resources and work directly with their business consultant to complete their plan. Completed business plans will be used to guide the business launch, implementation and growth and can be used to help secure start-up funding, lines of credit, business leases and more. Participants receive individual consultation and feedback by Business Consultants and an expert panel.
Phase Three | Business Launch and Implementation
Participants will work directly with their business consultant to launch their new business. Business consultants will provide support, conduct site visits and financial and operational reviews over a 38-week period to ensure the launch and successful operation of the new business. Participants will also have access to online resources, industry mentors and referrals to vetted professionals as required.
Training Locations: Douglas College - Coquitlam and New Westminster Campuses, WorkBC Centres – Maple Ridge, Langley and New Westminster
Program Dates: Continuous intake throughout the year.