Education
PhD, Sociology, York University
MA, Sociology/Political Economy, Carlton University
BA, Sociology, Simon Fraser University
About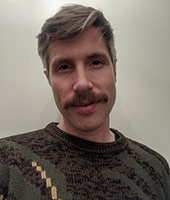 Ben Christensen joined Douglas College in 2016. If you take a sociological class with Ben, expect to examine the intersection between history, politics, and economics to understand how society structures our lives (including your own!). He challenges students to think critically about society and to become strong analytical writers. Ben's research examines Canadian public policy and social movements that both challenge and embrace economic globalization. He is currently developing a public digital archive documenting anti-free trade activist history in Canada. He recently co-edited a special issue on nationalism and anti-free trade activism in Socialist Studies. He has also published on pension policy reform and Canadian political economy. Ben's research can be found in publications such as the CCPA Monitor, Studies in Political Economy, the Canadian Journal of Political Science, and Socialist Studies.
Tel: 604 527 5319
Email: christensenb@douglascollege.ca
Office: N3308G
Courses Taught
SOCI 1125 – Introduction to Sociology
SOCI 1145 – Canadian Society
SOCI 1155 – Social Issues
SOCI 2230 – Race and Ethnicity
SOCI 2235 – Introduction to Social Theory
SOCI 3345 – Aging, Death, and Capitalism
SOCI 3375 – Masculinities and Society
Research Area
Policy studies, Canadian political economy, social movements, work and labour
Selected Publications
Hurl, Chris and Benjamin Christensen (Eds.)(2021). "Reflections on the Struggle against the Free Trade Agreement (FTA), 30 years later". Socialist Studies/Études socialistes
Christensen, Benjamin (2020). "Ontario Pension Policy Making the Politics of CPP Reform, 1963-2016", Canadian Journal of Political Science. 53, pp. 1-18
Christensen, Benjamin (2018). "Come Together for Pension Justice: The History of Retirement Security in Canada." Canadian Centre for Policy Alternatives Monitor, Vol. 24, No. 6 (March/April).
Hurl, Chris and Benjamin Christensen (2015). "Building the New Canadian Political Economy", Studies in Political Economy. Vol. 96. Pp: 167-193.