Knowledge Keepers
We are grateful to work with a number of Elders and knowledge keepers, depending on which class or event is being held, and their availability.  The Indigenous Pathway, designed at the request of community, has always been co-created with Elders. Some of these amazing community leaders who have taught us a great deal are, Lillian Howard, Harlan Pruden, Oldhands and Bruce Robinson.
---
We raise our hands to our dedicated Advisory Circle members. The Indigenous Pathway could not be what it is today without their knowledge and guidance.
Emily Taylor, Instructor
Emily Taylor is Kwakwa̱ka̱'wakw educator, mother and great aunty. Her mother is from 'Mimkwa̱mlis (Village Island BC) and her father is from Kalugwees (Turnour Island BC). Emily is a member of the Tlowitsis First Nation and was born and raised in Campbell River. She holds a Bachelor of Arts with Double Minors in Sociology and Political Science from SFU, and a Master of Education from UBC. Emily also provides guest lectures and facilitates Indigenous Perspectives and History for Culturally Safe Spaces.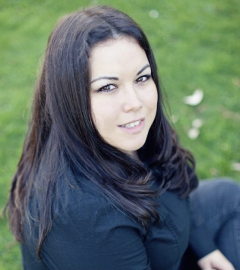 Michelle Sound, Indigenous CAF Advisor
Michelle Sound is a Cree and Métis artist, educator and mother. Her mother was Cree from Kinuso, Alberta and her father's family is Métis from the Buffalo Lake Métis Settlement in central Alberta. Michelle is a member of Wapsewsipi/Swan River First Nation in Northern Alberta and was born and raised on the unceded and ancestral home territories of the Musqueam, Squamish and Tseil-Waututh people. She holds a Bachelor of Fine Arts from Simon Fraser University, School for the Contemporary Arts, and a Master of Applied Arts from Emily Carr University Art + Design.