Education
BA, York University
MA, University of Western Ontario
PhD, University of British Columbia
About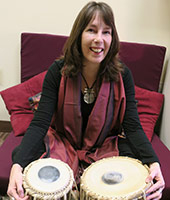 Denise Nuttall is a socio-cultural anthropologist who specializes in cultural and performative studies of South Asia and the South Asian diaspora. As both a scholar and a practitioner of tabla drumming Dr. Nuttall is interested in the relationship between the performing arts and their cultural contexts, more specifically the lived experience of tabla players (Hindustani or North Indian percussionists) around the globe. Her scholarship is centered around issues of cultural memory, embodiment and the body in cultural and ethnomusicological fields, the teaching and learning of traditional knowledge systems in South Asia based on the guru/disciple institution, and the development of apprenticeship as a field method in the social sciences. Dr. Nuttall has previously taught in the Departments of Anthropology and Sociology at Dalhousie University, and The Fine Arts Cultural Studies Program at York University as an Assistant Professor and the Anthropology Department at Ithaca College as an Associate Professor.
Tel (COQ): 604 777 6215
Tel (NW): 604 527 5427
Email: nuttalld@douglascollege.ca
Office: N3308F
Courses Taught
ANTH 1100 Introduction to Social and Cultural Anthropology
ANTH 1130 The Anthropology of Religion
ANTH 2220 The Anthropology of Healing
ANTH 2250 The Anthropology of Music
Research Area
Social and Cultural Anthropology, South Asia (India) and the South Asian Diaspora, Anthropology of the Body and Embodiment, Sensory Ethnography, The Anthropology of Performance, The Anthropology of Music, Postcolonial and Transnational Anthropology
Research Projects
As an international scholar in cultural anthropology Dr. Nuttall has presented papers on her research in India, the U.S.A., Canada, The Netherlands, France and Southeast Asia.  Previous select publications include, "A Pathway to Knowledge: Embodiment, Dreaming, and Experience as a Basis for Understanding the Other", In Extraordinary Anthropology: Transformations in the Field, University of Nebraska Press (2007), and Rhythm Embodied: Training Rasa in Hindustani Tabla?, Studies in South Asian Film and Media  5(1):69-89. (2013).
Dr. Nuttall's current research titled, Lives Lived With Indian Music: An Ethnography is a collaborative research project with Professor Joep Bor at Leiden University in the Netherlands. Here she turns her attention to compiling a historical ethnography on the rise of a South Asian centered ethnomusicology and the subsequent establishment of world music institutions and centers in North America and in Europe. These academic and professional schools have produced professional musicians whose careers depend upon an expertise in either North or South Indian classical music traditions. This research documents the lives of the scholars and musicians who have been instrumental in creating and sustaining world music performance and scholarship on Indian classical music primarily from the 1960s onward. The oral history narratives of the travels and tales from North America and Europe to the subcontinent reveal fascinating stories of lives lived and often profoundly changed because of the participant's deep interest and experience of Indian music, peoples and cultures.