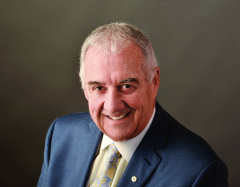 Established in 2012, the Peter Legge Institute for Sales Excellence at Douglas College offers a variety of sales training programs for both new salespeople and experienced professionals.
The Sales Institute's patron, Dr. Peter Legge, LL.D (Hon), is an internationally acclaimed professional speaker, a bestselling author, and the CEO and Chairman of Canada Wide Media Ltd. In addition to being the recipient of multiple awards for his service to the community, Peter is recognized as one of Canada's top business leaders and was inducted into the Canadian Professional Sales Association Hall of Fame in 2003 alongside other business leaders including Jimmy Pattison, Timothy Eaton, Garfield Weston, and Brian Tracy.
Having been in sales for most of his life, Peter learned from the hundreds of deals he closed (and lost) that a simple and direct approach to sales is best – be honest, create value, and come from a place of giving to get. His philosophy is reflected in all of the Sales Institute's programming.
GIVE YOUR SALES TEAM THE BEST CHANCE FOR SUCCESS WITH TRAINING THAT CONTINUES TO CHALLENGE AND DEVELOP THEIR ABILITIES.
---
SALES FUNDAMENTALS (2 Days)
Crucial Skills That Turn Opportunities into Results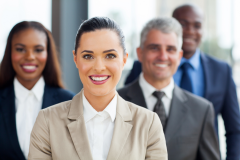 The Sales Fundamentals program delivers strategic professional development for both new salespeople, as well as experienced sales pros who may benefit from a refresher. This two-day workshop includes interactive presentations, lively role-play, peer-to-peer roundtables, and industry-relevant examples throughout all curriculum topics.
Training topics will include:
Setting sales goals & tracking results
Understanding your target market
Effective lead generation strategies
Features, benefits, and solving problems
Creating incredible value
Why clients buy - wants vs. needs
Effective communication & presentations
What is said vs. what is meant vs. what is heard
The sales cycle
Closing and handling objections
Client life cycle and loyalty
Repeat and referral sales
Upselling techniques
Overcoming roadblocks to success
… and much more!
The price per on-site group workshop is $4,995.00 plus applicable taxes (up to 18 seats).
 
SALES ENHANCEMENT WORKSHOPS
The following workshops are designed for more experienced sales professionals that are looking for a way to focus on improving specific elements of their sales techniques and take their skills to the next level.

B2B & B2C Lead Generation Strategies that Work (4 Hours)
Do you feel like your B2B and/or B2C business is not getting enough high-quality leads? Are you out of inspiration about what new strategies you could use for effective lead generation in a post-pandemic world?
This workshop focuses on building lead-generation campaigns that will grow your business, your network, and your opportunities. Our experienced sales trainers will teach you how expert marketers generate leads for B2B, B2C, and local businesses, using various lead-generation concepts, strategies, tools, and techniques. The program incorporates foundational principles, a customer-centric focus, emerging technologies, and essential tools that have reshaped marketing during COVID-19 and tools that will remain a key driver of organizational growth in the years ahead.
Program participants will explore:
The differences between B2C and B2B lead generation
How to access your current B2B & B2C marketing strategies
The Lead Generation Funnel
Lead capture, qualification, and connection
Marketing automation
Powerful lead generation tools
Effective Inbound and outbound marketing strategies
The customer decision-making process
How to close deals and make money
The price per on-site group workshop is $1,795.00 plus applicable taxes (up to 18 seats).
 
Powerful and Persuasive Presentation Skills (4 Hours)
Wouldn't it be a shame if all your hard (and expensive) marketing efforts finally got you in front of a potential client only to lose out on a sale or contract due to an ineffective sales pitch? The reality is that this scenario happens every day. Sales reps rarely get training on how to deliver effective presentations for their products and often lose out on opportunities because they lack the skill to successfully communicate, connect and close.
This workshop will allow sales professionals to learn how to prepare for and deliver all types of sales presentations (formal and informal), either individually or as a team. Participants will build the skills required to make a compelling case to get customers to act and win more business by delivering high-impact, customer-focused presentations that actively involve their customers.
Program participants will learn and practice how to:
Manage nervousness and enhance their delivery
Practice effective verbal and non-verbal communication
Use a Presentation Framework to craft a persuasive message matched to customer needs
Tell their story from the customer's perspective
Utilize an interactive approach that tests customer perceptions and allows for immediate adjustments
Build relationships and trust by generating audience-centered discussions and comments
Recognize and resolve potential objections, before they become objections
Create incredible value and differentiate from the competition
Respond to tough questions with clarity and confidence
The price per on-site group workshop is $1,795.00 plus applicable taxes (up to 18 seats).
 
Managing Client Engagement & Building Long-Term Relationships (4 Hours)
Landing a new customer and securing a first sale should be just the first step in the long journey of turning your 'customers' into 'clients'.
Your long-term sales success relies heavily on developing strong client relationships that last. Clients develop expectations about how suppliers should perform and behave. If you want to exceed those expectations and become your client's trusted advisor that delivers value every time, then you need to develop high-impact client engagement skills that positively differentiate you from your competitors. To achieve this, you need to learn and master the key behaviours and relationship-building skills that put your clients first and foster strategic long-term customer relationships.
This workshop is designed specifically for account managers, client relationship/liaison managers, sales representatives, and technical people who support the sales process in a client-facing role. During the program you will:
Explore techniques to truly understand your client's needs
Review the different client types, behaviours, and expectations
Understand your client's journey and touchpoints
Develop a customer-centric mindset
Practice techniques to build credibility and reliability
Role-play advanced rapport-building skills
Master loyalty-building behaviours and strategies
Find out how to use social media and CRM tools to your advantage
Determine the value of and how to act on client criticism and feedback
Understand how to leverage customer relationships for referrals
Valuate the benefits of developing strong client relationships
The price per on-site group workshop is $1,795.00 plus applicable taxes (up to 18 seats).
 
Effective Negotiation Skills (7 Hours)
Do you want to discount less, enjoy higher close rates, shorter deal cycles, close bigger deals, improve relationships, upsell and cross-sell more effectively? If you master key negotiation skills and practice effective strategies, you can achieve these results and more.
In today's budget-conscious/value-driven world, buyers are smarter than ever and are always on the lookout for the best 'deal'.  Negotiation is crucial for them to achieve their goals and manage their resources, and it's also crucial for you as a seller to keep your margins and profitability while keeping your client satisfaction high. Without effective negotiations, these two needs are at incredible odds and if not managed well, can lead to negative emotions and results on both sides.
This highly interactive and collaborative workshop focuses on practice and application, with real-time feedback from our professional sales trainer and program participants. During the program, you'll gain actionable strategies for:
Adjusting expectations (both theirs and yours)
Making offers more appealing
Closing sales negotiations faster
Increasing the Value Proposition
What to say & when to say it
Why salespeople discount and why it's a problem
Leading the Negotiation Process
Handling common buyer negotiation tactics
Managing emotions in negotiations
Managing your BATNA
Effective communication and body language
How to avoid and identify dirty tricks and manipulation
How to get the business and keep a strong positive relationship with the client
The price per on-site group workshop is $2,995.00 plus applicable taxes (up to 18 seats).
---
The Sales Enhancement Workshop Bundle
If you're interested in booking all the Sales Enhancement workshops, we have conveniently bundled them together for one low price.  This bundle can be delivered in a variety of ways, so contact us to discuss your needs and we can schedule the workshops, so they work best for your team and schedule.
All 4 Workshops are for $7,495.00, plus applicable taxes
Some BC employers may have access to funding through the B.C. Employer Training Grant (ETG) which supports skills training to address provincial labour market needs. The program is delivered by the Province of British Columbia and is funded by the Government of Canada through the Workforce Development Agreement (WDA). For more information on the Grant and to check eligibility. Click Here for More Details.
---
Testimonial
I just wanted to thank you again for coming out on Monday and putting on the course for our supervisors. I have spoken to all who attended and have heard only positive feedback about the information on the course and your presentation of it. Some of the guys said they were a bit skeptical before the course, but they all said that after only a few minutes you had their attention and held it. They said that they will be putting what they learned into practice.  
Alliance Grain, Vancouver, B.C.