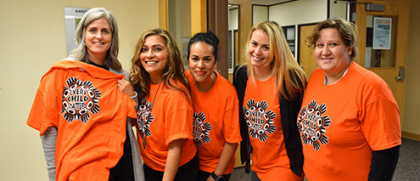 As socially responsible citizens, we are committed to making a difference in our communities. You may choose to share your time and talent volunteering for a local or international project, donate to United Way, or help lighten a student's financial load by choosing to contribute a small portion of your pay each month to the Douglas College Foundation. 
One of our major community projects is the Annual Holiday Hamper where Douglas College identifies student families in need though our bursary applications, collects information on gift suggestions from the family and forwards this information to the sponsoring group/department.
Other opportunities include - Shore Clean-up, Winter Clothing Drive, Blankets for Pets, Foodbank Drive, Terry Fox Run, Sustainable Outreach and Learning Garden maintenance and many more.