Safety
Crime happens everywhere. Thefts, pick-pocketing and small crimes occur from time to time. For your information, Vancouver Police Department has provided the following website with tips and helpful information to stay safe in Vancouver. 
Accommodation and Housing
Douglas College does not endorse any of the companies on the list. It is solely up to students to choose any service that is appropriate for them or meets their needs. 
1. HOMESTAY
Many international students at Douglas College choose to live in homestay for their first few months of living in Canada. 
FCI, Cypress Accomodations and CanBeHome Canada Homestay will help to place you with a homestay family depending on your interests and individual requirements. Homestay families are all carefully screened and selected to ensure the best possible experience.
2. STUDENT RESIDENCES
For Douglas College students interested in staying at student residence, we recommend a few options. 
Global Education City offer different locations and options for student housing.
3. RENTING YOUR OWN PLACE
If you want to rent your own place, the easiest way to look for your new home is online. You can find more resources on the Douglas Student Union website. 
Be cautious when searching and remember to view the inside of a property before you sign a lease or pay any money. There are several other rights and responsibilities that you have as a tenant (renter). To learn more about these, visit the Tenant Resource & Advisory Centre website.
Transportation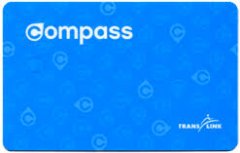 Getting around the Vancouver area is easy with our efficient public transportation system, known as TransLink. As part of your student fees, you have paid for a U-Pass, a transit discounted passes for post-secondary students which is loaded on a Compass Card (the image on the right) each month.
Your U-Pass provides unlimited access to bus, SeaBus, and SkyTrain services within the Vancouver area. To begin accessing the public transportation system, purchase a Compass Card at any SkyTrain station or one of these retailers and load your U-Pass BC onto it.