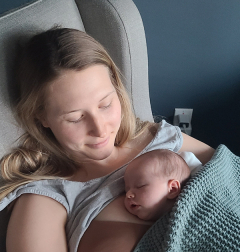 NEW!!! Infant Sleep Education for Parents
Douglas College's Perinatal Department is excited to announce our latest course to compliment our Prenatal Classes, Infant Massage and Breast/Chestfeeding Courses for both new and expecting families. We will now offer our new course:  Infant Sleep Education for Parents taught and developed by a Certified Sleep Consultant! This course will be offered LIVE online, but sessions will be recorded for you to review at a later date.
Do you know that 90% of new parents have sleep problems? It's not them. It's not their baby. It's nature.
Wouldn't it be easier to find a solution to this if we understood WHY? This course teaches you about infant sleep and prepares you for life with your baby based on up-to-date scientific research. In this course you will not learn how to sleep train your baby.
Rather, you will learn to understand and effectively respond to your baby during different stages of infant development and their relationship to sleep. The information learned in this course, will help you develop strategies to make you feel confident in responding and supporting your infant through their physical, emotional and neuro-developmental needs associated with sleep.
This course, developed from a neuroscience and attachment-based approach, provides everything you need to know about:
How and why infant sleep is different than adults
Safe Sleep
Infant feeding needs, sleep needs and safe sleep guidelines
Infant brain development and how to support it
Individual behaviours and temperaments and why it matters
How responsive caregiving nourishes your child's development
How to notice and respond to your baby's cues
What affects sleep?
Breast/Chestfeeding and sleep
How to optimize sleep for both infants and parents
Challenges (illness, adjusting to parenting, coming home from NICU and perinatal mood disorders and more)
Biological parenting instincts
How and why different stage, phase and development leaps affect infant behaviour and their sleep
Resources and support
Our online classes are engaging and interactive, with plenty of opportunities for questions. We use interactive tools to make the classes engaging and personal but with the convenience of staying at home. You'll learn your own parenting style while you also learn to adapt to your children's individual needs. This class is not about scheduling, training or changing infant behaviours. It is about understanding their behaviour, responding and adapting to their needs while maintaining the health and wellness of the whole family. We review how to incorporate your needs as a parent, why you matter and discuss the realities of adjusting to life as a parent. 
NOTE: By registering in this class, it will also give you free access to our weekly Live Online Douglas College Breast/Chestfeeding Cafe which will be guided by one of our experienced IBCLCs. You will be able to socialize with other parents, ask about feeding questions and learn new information about lactation in an informal and safe atmosphere.
Online Options
Option 1: Two days over a weekend
CRN: 11115 - Saturday January 8th and Sunday January 9th
Time:  9:00 am to 2:00 pm
or
CRN: 11116 - Saturday February 5th and February 6th
Time:  9:00 am to 2:00 pm
Option 2: The same course over 4 weeks (2 hours per week)
CRN:  11121 - Wednesday evenings Jan 5th 12th, 19th, 26th
Time:  7:00 pm to 9:00 pm
Course registration and cost
Contact CE Registration at 604-527-5472 or email cereg@douglascollege.ca with subject line: Infant Sleep Registration.
Course Fee: $149.00 +GST