Pearls
Each year, the Creative Writing Department publishes Pearls, an anthology of the best student writing. Submissions in all genres are solicited by instructors during the fall, winter and summer terms for publication the following March. The Pearls launch celebrates our talented students with an evening of readings.
The Pearls 39 launch will be taking place on Thursday, March 26 at 7pm in the Douglas College Studio Theatre. 
Poem of the Month
Each month, the Creative Writing Department displays posters of exceptional poetry written by Douglas College students. Poems for Poem of the Month are selected by a committee of instructors. The Poem of the Month competition is open to all students at Douglas College.
Writers Unplugged
Creative Writing students, especially those pursuing an Associate of Arts Degree, can meet fellow students and share work in any genre at the Writers Unplugged evening. Students will have the opportunity to read their work at the open mic, and a guest writer will be invited to talk about the writing process. Don't be shy; come meet, mingle and talk about writing. Held during the Fall semester.
Literature Alive
Throughout the year, the Literature Alive Committee at Douglas College presents readings by a variety of Canadian writers. All are free and open to the public. This year's Literature Alive reading will be held on Thursday, February 6 at 7pm in the Douglas College Studio Theatre. Featuring readings by Chelene Knight, Ian Williams, and Shazia Hafiz Ramji.
EVENT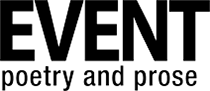 The Creative Writing Department is home to EVENT, one of Canada's top literary magazines. Founded in 1971, the magazine prints the very best in contemporary new poetry and prose, including fiction, poetry, non-fiction, notes on writing and reviews. The magazine features emerging and established writers side-by-side in its pages. EVENT is published three times a year and hosts Canada's longest running non-fiction contest.
After appearing in EVENT, writers have received recognition from the Journey Prize, the National Magazine Awards, the Western Magazine Awards, Best Canadian Stories, Best Canadian Poetry, Best Canadian Essays, and the Pushcart Prize. EVENT has published many of Canada's most distinguished writers before and after they gained national or international recognition, and continues to support gifted emerging writers.