Douglas College geographers believe in experiential learning and getting out into the field. This is why the department of Geography and the Environment participates in so many international field schools and runs regular, local field trips from its New Westminster and Coquitlam campuses.
Study Abroad
Geographers at Douglas College have taken students to China, Belize, Wales, and Scotland as part of our international field school program. Students typically take three Douglas College University Transfer courses in a condensed fashion over six to seven weeks. A portion of the courses are completed on campus while the remainder is completed in experiential format overseas.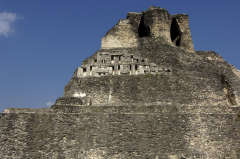 For example the Belize Field School has combined  Regional Geography of Latin 
America (GEOG 1190) with Sociology and Archaeology courses, with three weeks of classes at our New West Campus followed by five weeks of field studies in the tropical paradise of Belize. Students have participated in archaeological digs, visited community conservation programs, and snorkeled in the pristine waters of the Caribbean barrier reef.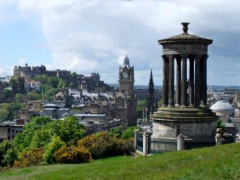 Scotland Field School
The Scotland Field School has combined Earth Sciences (GEOG 1110) with Creative Writing & Performing Arts to investigate the interplay between Scottish physical landscapes and cultural identities. After four weeks of course work at our New West campus, students spent three weeks exploring museums, castles, city squares and streets, and of course, a green hill or two to examine the local geomorphology.    
Iceland Field School
---
Douglas College is always designing different field school and overseas opportunities, involving different courses and countries. Keep an eye out for upcoming information sessions and talk with your instructors.
Local field trips
We also offer field-based learning in the form of field trips in many of our courses, where classrooms shift outdoors to local natural and cultural features such as rivers, forests, First Nations communities, museums, and urban spaces, among others. We investigate issues ranging from climate change and natural disaster risk to urban sprawl and globalization. Students benefit from instructors who are passionate about geography, and from more one-on-one time thanks to our small class sizes.
Geographers study both natural and human-built environments and as such we like to get out and see what's happening on the ground. Many of our classes take students on field trips to visit local sites of relevance or participate in walking tours. Some of our past trips include the following
Lynn Canyon 
Shopping malls
Britannia Shipyards
Cemetery tours 
Chung Collection (UBC)
The Longhouse at UBC 
Museum of Anthropology
Coquitlam River Watershed
Delta Nature Reserve
Historical Chinatown
Local creeks
World Refugee Day
Refugee Camp in the City

Stó:lō First Nation (Chilliwack)
Historical New Westminster
Musqueam First Nation
New Westminster urban planning
Nikkei National Museum & Cultural Centre
Glacial history of the Fraser Valley
Seymour Demonstration Forest 
Fraser River Discovery Centre 
Gulf of Georgia Cannery
Tsawwassen First Nation
Lower Seymour Conservation Area
and many more...
Ask your instructors for course specific details.