Education
BSc (Hons), Trent University
MA, Trent University
PhD, University of Calgary
About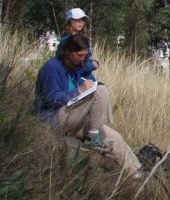 I have been teaching at Douglas College since 2003 and courses I teach include World Prehistory, Introduction to Archaeology, Introduction to Biological Anthropology, Archaeology of the Americas and Old World Prehistory. I am an anthropologically trained archaeologist and I have been working on archaeological projects in the Central Andes, in Peru and Ecuador, since 1987. I have also had the opportunity to carry out archaeological research in Chihuahua, Mexico and Cameroon, West Africa. I received a B.Sc. (Hons) in Anthropology and a MA in Art and Archaeology of the Americas from Trent University. I received my Ph.D. in Archaeology from the University of Calgary where I studied the Late Formative Period Chorrera ceramic style from the SW coast of Ecuador. I held a Visiting Fellowship at the University of East Anglia in the Sainsbury Research Centre for the Arts of Africa, Oceania and the Americas. In a brief departure from archaeology, I was employed as a Photo Archivist at the National Archives of Canada. My current research focuses on archaeology of the central highlands of Ecuador.
Tel: 604 527 5741
Email: beckwithl@douglascollege.ca
Office: N3308C
Courses Taught
ANTH 1101 World Prehistory: Ancient Peoples and Cultures
ANTH 1111 Introduction to Biological Anthropology
ANTH 1112 Introduction to Archaeology
ANTH 2210 Archaeology of the Americas
ANTH 2212 Old World Prehistory
Research Areas
Archaeology, Biological Anthropology, South America, Ecuador, Ceramic Analysis
Recent Publications
Beckwith, Laurie, 2019, "Collay: Un sitio del periodo formativo tardío de la Provincia de Chimborazo." In De Arqueología Hablamos las Mujeres. Perspectivas sobre el pasado ecuatoriano, pp. 97-107, edited by Maria Auxiliadora Cordero. Universidad Laica Eloy Alfaro de Manabí, Jipijapa, Ecuador.
http://www.munayi.uleam.edu.ec/wp-content/uploads/2019/08/Arqueologia-hablamos-vweb.pdf
Jamieson, Ross, Ron Hancock, Laurie Beckwith and Alice Pidruczny, "Neutron Activation Analysis of Inka and Colonial Ceramics from Central Highland Ecuador." Archaeometry 55(2): (2013) 198–213.
Recent Conferences
"Collay: Un Sitio del Periodo Formativo Tardío de la Provincia de Chimborazo." At "Primer Simposio de Arqueólogas en el Ecuador -De arqueología- hablamos las mujeres," Jipijapa and Salango, Ecuador July 28 and 29, 2017.
"Collay: A Late Formative Period Site from Chimborazo Province." Paper presented in "Formative Influences: a Gathering in Honour of J. Scott Raymond." A symposium at the SAA Meetings, March 29 to April 2, 2017, Vancouver, BC.