Social workers advocate for social justice and work with people to resolve problems in their day-to-day lives. They work one on one with vulnerable children and adults, families in need of assistance, seniors, people with disabilities, people who struggle with addictions or mental health problems, refugees and other clients to identify and achieve goals for better quality of life.
If this sounds like you, the Douglas College Bachelor of Social Work (BSW) program will give you the social-work skills and knowledge to take on roles at non-profit community organizations, child welfare agencies, residential and health-care programs and more, where you will work with children, individuals, families and community groups.
---
In-Demand Skills
Bachelor of social work grads are in high demand throughout the province. B.C.'s 2025 Labour Market Outlook lists social work as one of the province's top occupations in terms of job opportunities.
Program at a Glance
Our BSW program takes three years to complete; all you need is 30 university-transferable credits to be admitted. With our degree, the prerequisites are built into the first year of the program, so even if you have taken general university-transferable courses, you'll still be eligible to apply.
Douglas College BSW graduates are eligible to write the licensure exam, administered by the BC College of Social Workers, to become registered social workers in BC.
Student Success Story
Josh Rasalan realized he wanted to study social work. And then Douglas made it possible.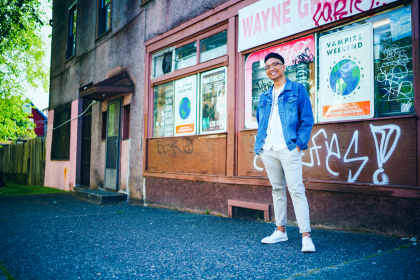 Graduating class of 2019
We are extremely pleased that our first group of Bachelor of Social Work students will be graduating this June.  These students have worked diligently during their years in the program, across a broad spectrum of courses, including practicum placements at various social service agencies. Their studies are designed intentionally to reflect both the conceptual and practical aspects of social work which the students tackled with genuine enthusiasm and initiative. They have made a conscious choice to enter a challenging, and at times thankless profession, with a keen interest to assist people who are typically disenfranchised and lacking access to resources in society. 
Our graduating class is composed of students from a diversity of backgrounds and prior learning experiences, which they utilized to add richness and meaning to class discussions. The input of the students brought the application of theories to life and without this the teaching experience would not be nearly as rewarding for all concerned. As a closed cohort the students formed close connections, to support one another, and to navigate the murky waters unavoidable in getting a new degree off the ground. 
Many of the students have secured paid positions already with the Ministry of Children and Family Development (MCFD), Corrections, and Indigenous Service Agencies. Others are pursuing graduate level studies while some are taking a well-deserved break over the summer before deciding on next steps. 
We wish all of the Graduating class good luck in their future pursuits with the hope that they will keep in touch with the instructors and support staff as their careers progress.
Want More Information?
For more information about admission requirements, courses, intake dates and more, visit the Program and Course Catalogue.

Read More