Our curriculum is called Academic College English (ACE) and will improve students' ability to participate in university-level conversations, understand academic texts and discussion, and write effectively in a college environment.
---
The ELLA department now welcomes Canadian citizens, permanent residents and refugees for all three (3) levels of our program. Please contact the departmental assistant for further details at ella@douglascollege.ca or 604-527-5463.
If you have an international student visa, please contact Douglas College International.
About the program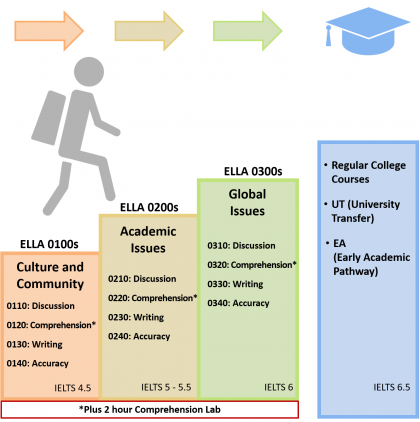 The ACE program consists of three levels. Each level focuses on a specific theme and contains four courses:
In this program, full time students spend 20 hours per week learning and practicing English:
16 hours in classes
2 hours in a computer lab
2 hours in other educational activities, such as workshops and field trips
Your placement score will determine your level per course. This flexibility allows you to take courses at different levels.
What will I study in the ACE program?
Each level of the ACE program consists of four 3-credit courses:
Discussion Course: speaking, listening and presentation skills. This course includes 2 hours per week of additional experiential learning activities, such as workshops and field trips.
Comprehension Course: reading and listening skills. This course includes an additional 2 hours per week of lab sessions.
Writing Course: paragraphs and essays. This course covers academic writing skills such as organizing, composing, revising, and editing.
Accuracy Course: grammar and vocabulary. This course covers accuracy of expression, and developing proofreading and editing skills.
When will I be ready for College-level courses?
You will be able to take College-level courses when you complete or are exempt from at least three (3) of the four (4) courses at Level 3.

If you complete all four (4) courses at Level 3, you are able to apply to graduate with an Academic College English (ACE) Certificate.

Our ELLA Early Academic Pathway allows qualifying students to register in up to six (6) credits of pre-approved Early Academic Courses while completing the third level ELLA courses. For the complete list of Early Academic courses, click here. To learn more contact ella@douglascollege.ca or 604-527-5463.

Completion of ELLA 0310 and either ELLA 0320 or ELLA 0330 fulfills the Intercultural Experience component of the Global Competency Certificate.

To learn more, visit the Global Competency Certificate page.

To take courses in the Departments of English, Communications, or Creative Writing, one of the three (3) Level 3 courses that you complete must be ELLA 0330 (Writing).