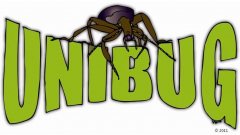 Free Workshops in 2020/21. All members of the community welcome!
Our monthly free workshops are back!  Join us in a safe, online or in person environment as we learn about the nature in our cities.  We are excited to announce that we are transitioning back to in person workshops!  Safety is our number one priority.  In person workshops may have to switch to online depending on current PHO's.  
Our Monthly Monday workshops will be held on the last Monday of every month.  If you can't join the live event make sure to check out our YouTube channel where we have a wide variety of lessons available to you anytime!
---
October 25, 2021
One Little brown bat can eat up to 1000 mosquitos per hour!  It is also on the verge of extinction.  These misunderstood creatures often get a bad reputation but the rumours are not true!  Come learn the truth about bats and build your very own bat house to take home and help save our BC bats!
Free workshop, open to all!  October 25, 2021, 5-6pm. Registration is required.  This event will take place outside in our Sol Garden located at our Coquitlam campus.  Please email iue@douglascollege.ca to register or for more information.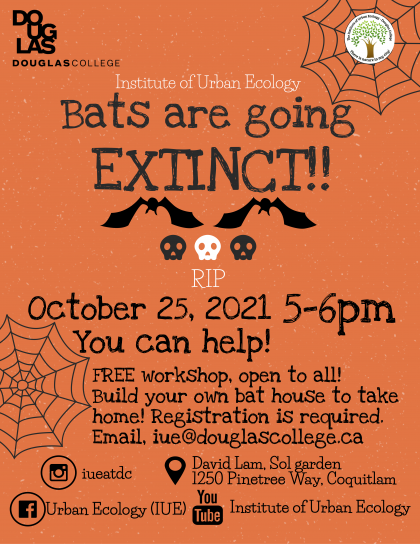 September 20, 2021 (note, this is a week earlier than usual)
This Monthly Monday, we are hosting a workshop on urban salmon streams!
At this workshop we are going to show you a fun and easy way to assess the water quality in your neighborhood stream and discuss ways we can help protect these fragile nurseries.  One of the most valuable fish on the market and in our ecosystem could be swimming through your backyard!  Small and fragile, you may not see them, but the choices we make everyday can have a big impact on salmon survival rates. 
The workshop will be happening on, September 20, 2021, outdoors, in person from 5:00-6:00pm PST.  Meeting point at the Hoy Creek Hatchery, Coquitlam, BC.
This is an inclusive, FREE event. All are welcome!  Registration is required.
Please email iue@douglascollege.ca for more information.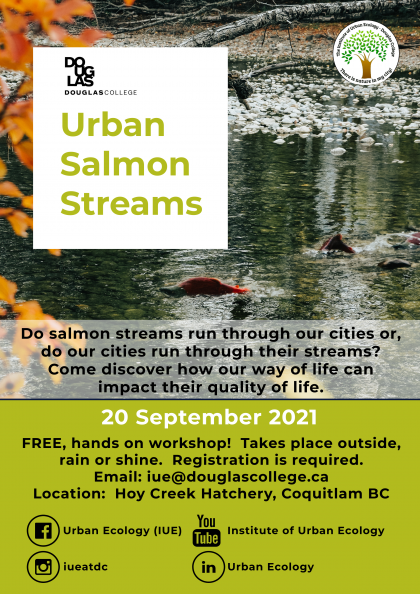 August 30, 2021
We are very excited to welcome FarmFolk CityFolk to the Sol Garden this month!  Together we are going to learn various seed saving techniques so you can start your very own seed library at home!  You can get started by bringing home some seeds from our garden! 
Seed saving is a great way to preserve plant biodiversity.  We can preserve the diversity of native plants or heritage plant varieties. Individual seeds of open-pollinated plants are also storehouses of diversity within plant species. Both kinds of diversity can be key to repopulating habitats destroyed by wildfires, disease or other catastrophes using stored seeds.

The workshop will be happening on the last Monday of the month, August 30th, in person at our Coquitlam campus (1250 Pinetree Way) from 5:00-6:00pm PST

This is an inclusive, FREE event. All are welcome!  Registration is required.  Please email us at iue@douglascollege.ca to register.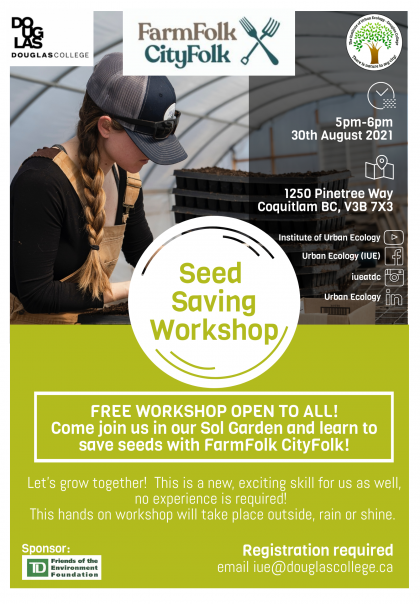 July 26, 2021
Location, 1250 Pinetree Way, Coquitlam BC. FREE environmental workshop for all people (any age, no experience necessary). Back in May we held an online workshop about Invasive Plants. This month, on July 26 from 5-6pm, we will meet in person to actively remove invasive plants from the Hoy-Scott Watershed. Registration is required. Please email iue@douglascollege.ca for more details.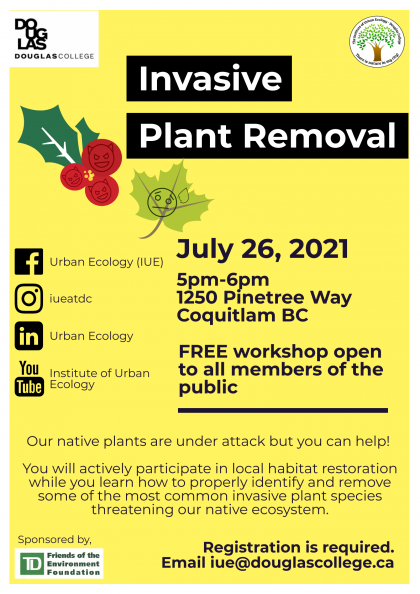 June 28, 2021
We are excited to announce that we are transitioning back to in person workshops!  This month join us IN PERSON (location 1250 Pinetree way, Coquitlam BC) or on Zoom for our next FREE workshop! On June 28th, 5-6pm join Dr. Rob McGregor as he teaches us all about biological pest control in the urban garden! Registration is required. Please email iue@douglascollege.ca for details.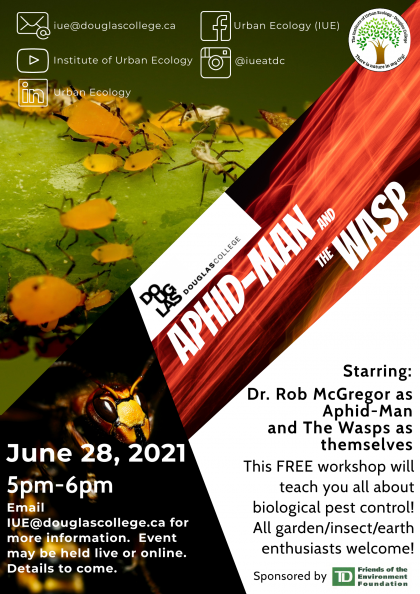 May 31, 2021
Invasive species can cause some pretty serious damage to our local ecosystems.  Yes, even an invasive plant can be dangerous!  Join us this month to learn about some of the lower mainlands most common invasive plants, what problems they cause, how to properly remove them and some eco-friendly plant alternatives.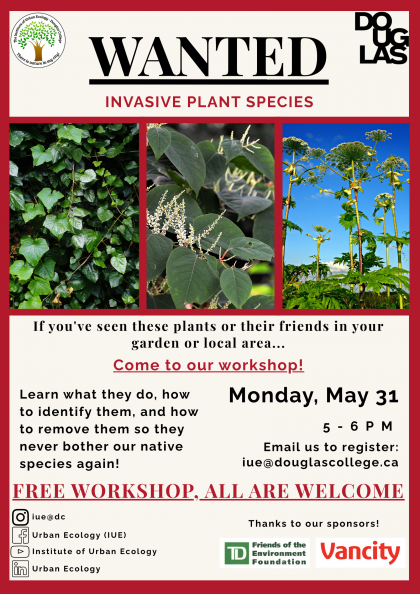 April 26, 2021
Now that spring has sprung, this month's workshop is all about bees! We'll teach you about BC's native bees, why they need your help, and what you can do to lend a hand. One thing you can do is provide a bee house for them, which we will teach you how to make yourself during our workshop out of affordable and repurposed materials!
**Note: you will have to provide your own materials if you would like to participate in the bee house making during the workshop. They are listed in the second photo and below.
Materials:
- acid- and ink-free paper cut into rectangles 15-18cm (6-7") by ~40cm (15") - you should be able to find a roll of acid-free kraft paper at any store with office supplies, or even at some dollar stores
- a pencil, chopstick, paintbrush, stick, or similar long and skinny utensil (for rolling nesting tubes)
- scissors
- a ruler or measuring tape
- masking tape
- 2-3 elastic bands or some twine
- a 2L pop bottle, label removed
- a marker
- an exacto knife or box cutter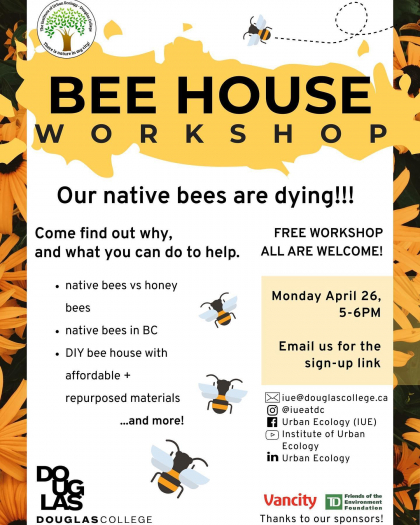 March 29, 2021
Back by popular demand!  Our herbal tea workshop features:
- why weeds are beneficial
- why lawns are bad + lawn alternatives
- common weeds + wildflowers you can use to make tea
- harvesting + storing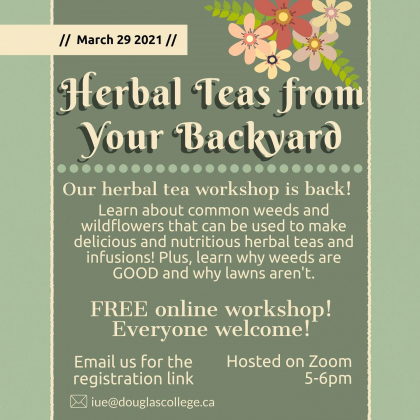 February 22, 2021
Design your own companion planting experiment! We'll discuss some of the theories of companion planting and mail you a FREE seed package to start your own experiment at home!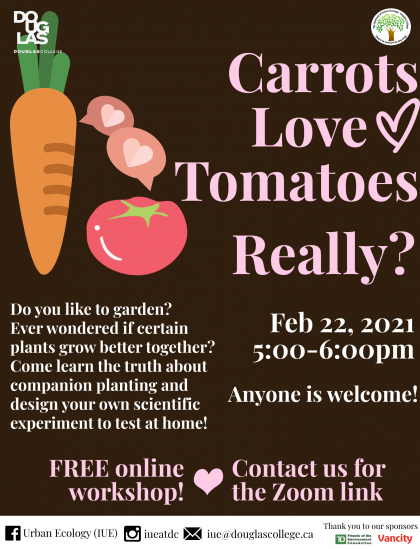 January 25, 2021
Citizen Scientists Needed!  Join the Beetle Watch 2020/21 team!  Help us collect data for a real research project!  No experience necessary!  We started this project in the fall of 2020.  With the help of our 75+ citizen scientists we were able to gather an amazing amount of data!  It's not too late for you to join too.  Attend our Zoom meeting on January 25th, 2021 to find out what we've discovered so far and where the project is headed next.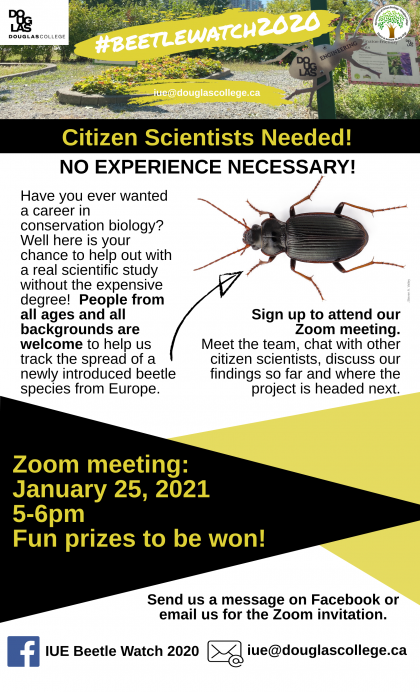 March 12, 2020
Don't Mess With Bugs! Hunting a Garden Killer.  Is it spring yet?  As the flowers begin to bloom, join us in the Sol garden to learn about our insect friends and foes.  Event will happen rain or shine, meet at our Sol garden out front of the David Lam campus and then we will move indoors for a presentation by Dr. McGregor.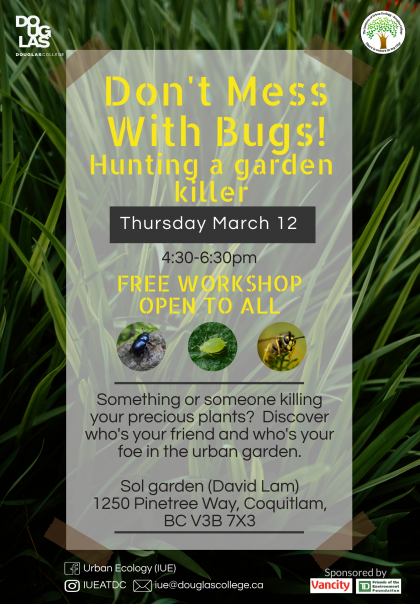 ---
February 20, 2020
Free Movie Night Open to All.  
Did you know Vancouver Island's west coast is home to one incredibly unique ecosystem? The coastal temperate rain forest surrounds the beautiful beach towns of Tofino, Ucluelet and more.  Join us for a FREE screening of "Clayoquot Sound Biosphere Reserve, British Columbia" a documentary about this one of a kind ecosystem and what the people living there are doing to help protect it.
You don't have to be a student to attend our free workshops!  Hope to see you there!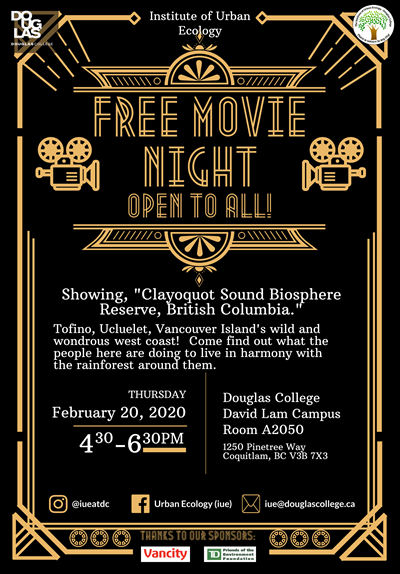 ---
January 16, 2020
2020 NY Resolution, No More Plastic.  Did you resolve to make a difference this year?  Do you want to help the environment and cut back on the amount of waste humans dump into landfills each year?  Come learn about bees, the environment and plastic pollution at our first workshop of the new year!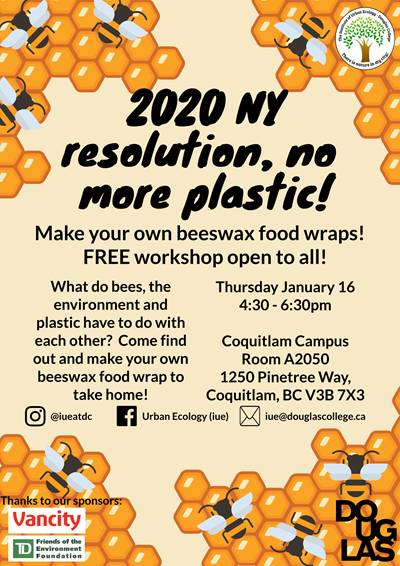 ---
Past Events
November 21, 2019
Herbal Teas From Your Backyard Poster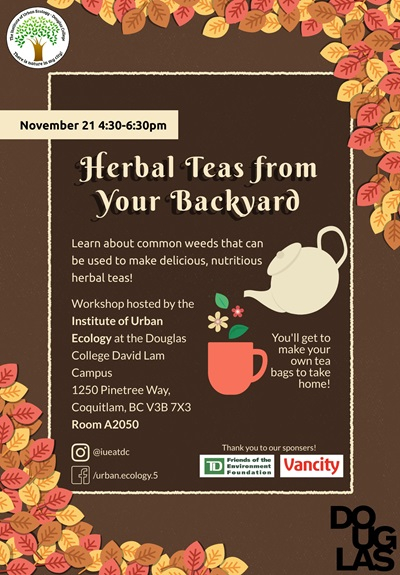 GOT WEEDS?!?! Don't fret, weeds are our friends and we'll show you why! Food for pollinators, teas and more! Let's make weeds great again!
---
October 17, 2019
Bats Are Going Extinct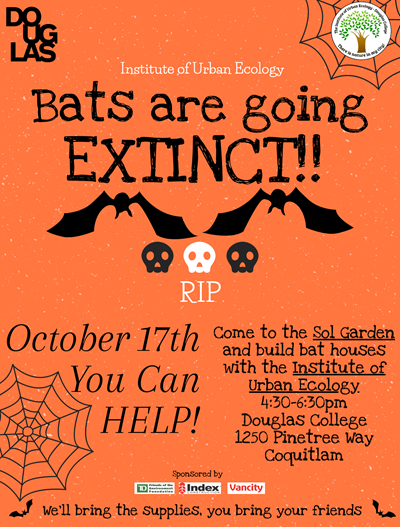 ---
September 19, 2019
Sol Garden: Sustainability, Outreach and Learning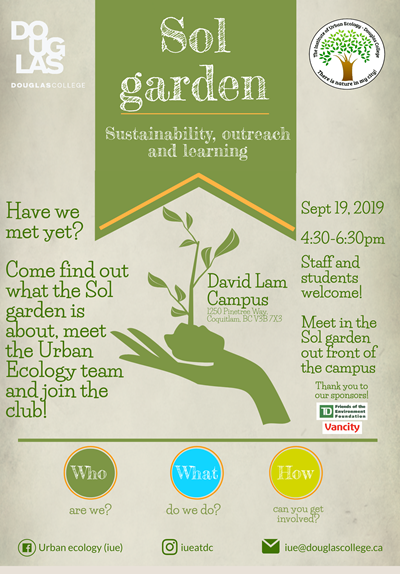 ---
November 15, 2018
From Paper to Nature: Make Homemade Seed Paper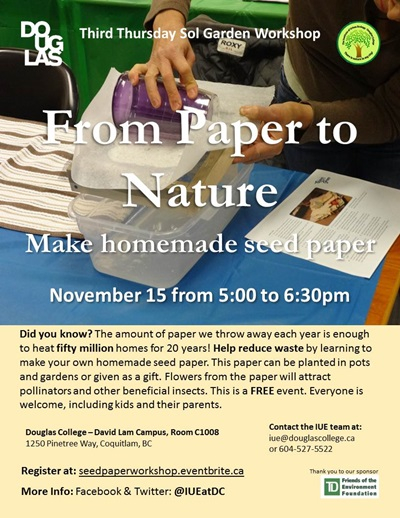 Brighten up your day with a free workshop on seed paper making. You can grow your own beautiful flower bed or gift them to a friend!
---
October 18, 2018
Birds Of Winter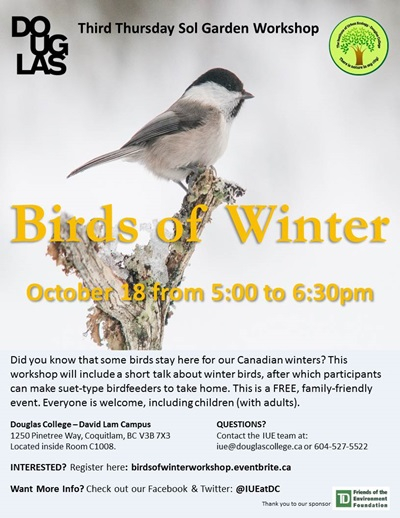 Did you know that some birds stay here for our Canadian winters? Hosted by the Institute of Urban Ecology at Douglas College, in this workshop, we will have a short talk about the different types of birds that live with us during the winter. After which, participants may make suet-type birdfeeders to take home. Join us in Room C1008 and help make things a little easier for our Feathery Friends! 
---
September 20, 2018
Aboriginal Culture; Herbal Teas And Sweet Grass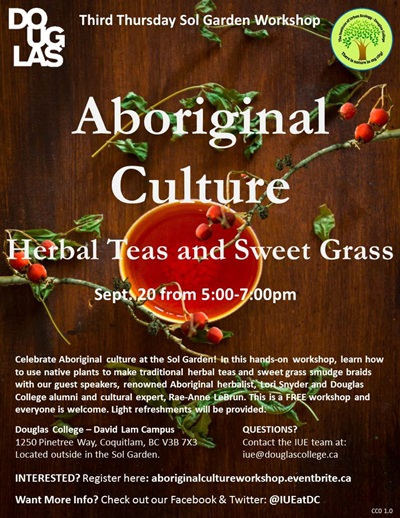 Celebrate Aboriginal culture at the Sol Garden! In this hands-on workshop, learn how to use native plants to make traditional herbal teas and sweet grass smudge braids with our guest speakers, renowned Aboriginal herbalist, Lori Snyder and Douglas College alumni and cultural expert, Rae-Anne LeBrun. This is a FREE workshop and everyone is welcome. Light refreshments will be provided. 
---
July 19, 2018
A Walk To Remember - Hoy Creek Salmon Hatchery Tour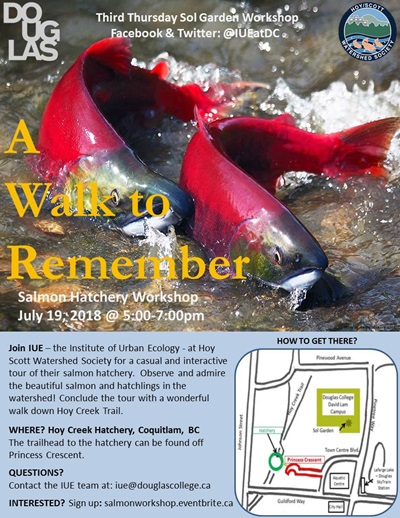 Join IUE – the Institute of Urban Ecology - at Hoy Scott Watershed Society for a casual and interactive tour of their salmon hatchery. Observe and admire the beautiful salmon and hatchlings in the creek! Conclude the tour with a wonderful walk down Hoy Creek Trail.
This event is family friendly, so everyone is welcome! 
---
June 21, 2018
Celebrate the Solstice!
Join IUE- the Institute of Urban Ecology at Douglas College in the Sol Garden- at a free workshop where you'll learn about the ecology of native BC plants and their indigenous uses by Aboriginal peoples.  This workshop will feature our guest speaker, Lori Snyder, a renowned Aboriginal herbalist.  We will also be celebrating National Aboriginal Day 2018!
This event is family friendly, so everyone is welcome!
---
March 8, 2017
How to Make Bee Water
While bees are busy pollinating our flowers we often forget they need to stay hydrated. A great way to ensure the bees working in your garden stay hydrated is to create a bee waterer.
What you need:
Put the marbles and water in the tin and voila you have a safe space for your bees drink.
---
March 6, 2017
Seed Paper Workshop
Are you looking for a creative way to recycle paper? Then the seed paper making workshop is for you. Seed paper is a great gift idea or activity to do with friends and family. During this workshop you will learn how to re-purpose paper in a brand new and sustainable way. The waste paper you have accumulated will be used to create new paper with embedded seeds. The possibilities are endless: you can create bookmarks, cards, posters, notepads and much more. Once you are finished with your creation, go ahead and plant it and watch it grow!
---
August 15, 2016
Winding Down for the Summer
It's that time of year again; UNIBUG is transitioning from our busy, active summer to a busy, active fall. For a few weeks, we'll be pretty quiet with someone in the office only sporadically. Call or e-mail ahead if you need to get in contact. We really appreciate your patience; we'll be back in September to tell you more about native and local pollinators, beneficial insects, and the joys of gardens.