Four-stream recycling is a waste collection method that separates different types of recyclables at the time they are being disposed of. At Douglas College, these four streams are labelled as "Mixed Containers," "Compost," "Paper" and "Garbage."
With four-stream recycling bins installed at both campuses, the amount of garbage being sent to the landfill has been drastically reduced; an average of 84 percent of garbage is now being diverted to recycling.
This guide details which items go into which bins:
Mixed containers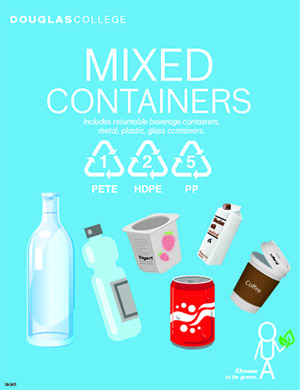 Paper coffee cups (including lids and sleeves)
Rigid plastics marked 1, 2 or 5 only
Aluminum beverage cans
Tin cans
Clamshell-style food containers* 

*Empty any food contents into Compost; there is no need to wash or rinse the containers.

Empty cardboard dairy containers
Metals
Glass
Tetra packs – e.g., juice, milk and soup containers
Aluminum foil and pie plates
In the Mixed Containers bin, do NOT place:
 soft plastics of any type e.g., plastic food wrap (Saran Wrap), Ziploc, or other plastic bags as this contaminates the contents, rendering them unrecyclable.
Please put soft plastics in the Garbage bin.
 
Compost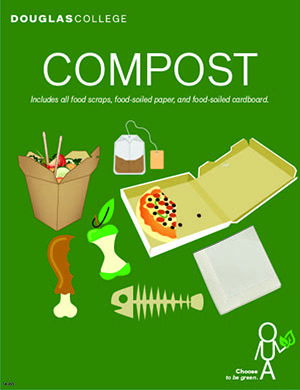 All food scraps 
Food-soiled paper and cardboard (paper plates, napkins, pizza boxes) 
Wooden items, including chopsticks and stir sticks 
Tea bags 
Used tissues (Kleenex) 
paper towel 
items marked "compostable" or "biodegradable" 
In the Compost bin, do NOT place: 
Paper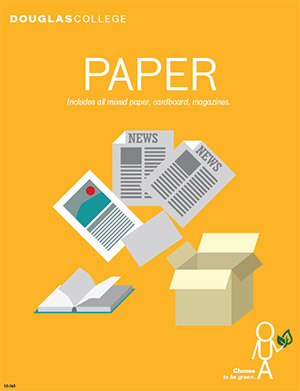 paper of all types 
glossy magazines/fliers 
Non-food soiled cardboard 
file folders 
poster board 
Empty cardboard dairy containers 
Sticky notes 
Staples are acceptable  
Garbage only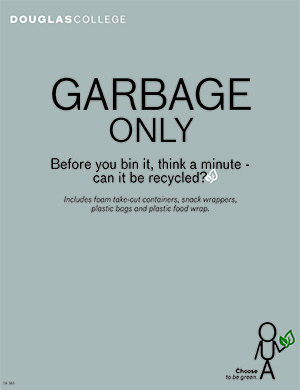 snack wrappers 
chip bags 
soft plastics such as plastic food wrap, Ziploc and other plastic bags. 
adhesive tape 
laminated items 
Styrofoam take out containers 
chewing gum 
plastic cutlery
FAQ
K-Cups and other coffee pods (marked #6) can be recycled if you follow these steps: 
Remove the foil lid and place it in the Garbage bin 
Empty the coffee grounds into the Compost bin 
Recycle the plastic cup in Mixed Containers 
Binders usually contain different kinds of metal and plastics, which makes them difficult to recycle. They should go in the Garbage bin. Some binders may have cardboard in them - if you are able to remove the cardboard, it can be recycled in Paper, but the rest goes into Garbage.
Styrofoam, such as in the form of cups, take-out food containers or packing material, is considered garbage and is no longer accepted in the Mixed Containers bin. If you have a large volume of Styrofoam, contact Facilities at New Westminster or Coquitlam to arrange pick-up.
Contact Facilities at New Westminster or Coquitlam to arrange pick-up. Batteries are to be collected in each department area. Batteries are then sent to ABC Recycling in Surrey.