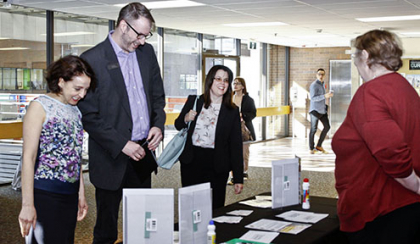 With education as the College's core purpose, we are committed to supporting our employees in their professional development. There are many ways employees can access a rich variety of development offerings internally and externally, enhancing skills for current and future opportunities with the College.
College-wide Professional Development days provide all employees with an opportunity to expand their knowledge and skills in topics that are relevant to the College community
Department or special group Professional Development days allow these teams to enhance their development through focused learning days
Professional development funding for regular support staff up to $1500 per fiscal year
Faculty Professional Development Funds
College Study Benefits that allow employees to access Douglas College courses (eligibility varies by employee group)
Professional Development funds for Administrators that accumulate at $500 per year
Professional Development leaves (varies by employee group)
Regular internal training opportunities such as management skills, respectful workplace, health and safety and technology training
All employees can access online learning opportunities through LinkedIn Learning, CCDI and Homewood Health
A career at Douglas means loving what you do and being good at it.