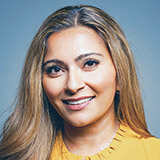 My Story
I started with Douglas in February 2014 and just recently celebrated my 5 years anniversary with the College! Prior to Douglas, I was working at another institution and commuting from Surrey during the Port Mann bridge construction.  I would drive by these posters that read "DO what you love" and sitting in traffic made me think about that.  I needed to "DO what I love", and at the same time find a better work-life balance.
My Career
My first role with Douglas College was as an Education Council Secretary, where I assisted the Vice President, Academic and Provost's office with special projects: organizing and participating in meetings.  Just over a year later, I had the opportunity to work in the Human Resources Department as a Learning and Development Coordinator.  This role gave me the opportunity to get to know the College community more and assist in developing learning and development programs for employees.  My favorite part of this role was planning the recognition events that celebrated employees' milestones and achievements and the College-wide Professional Development event that created a great energy in the College. 
In my current role as an Administrative Officer, I provide confidential administrative support to the Director, Student Affairs and Services and the leadership team.  Working in a high capacity matter and an ever changing environment is fitting for me.  In this role, no day is the same and this works well for my energy.  Creating strong working relationships with other areas of the College has helped me to excel in my role as there is a learning component and networking opportunities.  Our department supports students with their educational path and assists them to reach their full potential.  Being part of this team has made me more aware of the challenges our students are dealing with and if I can be part of their success, that makes me value my role even more.
Outside of my role, I have been participating with the College-wide Professional Development Week, Administrators' Community of Practice Professional Development and Consent and Sexual Violence Prevention committees.   I am so fortunate to have the opportunity to work in an environment that encourages growth and learning.  I have been lucky to have the opportunity to volunteer as an Employee Ambassador where we help to strengthen the College employee experience through planned activities.
My Growth
I am working on completing my British Columbia Recreation and Parks Association personal training certification. I was able to complete my yoga teacher training and have instructed many employees through my classes.  I am also interested in learning languages and learning more about our Canadian First Nations Culture.