TRAINING SOLUTIONS DESIGNED SPECIFICALLY FOR YOU.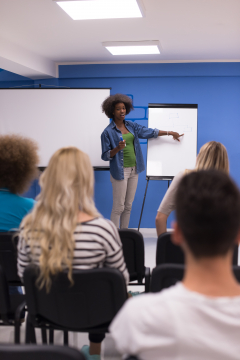 The power and effectiveness of workplace training is greatly enhanced when programs are customized so that the content is specific and relevant to the industry, business and the individuals being trained. Prior to training, our Programming Designers conduct an in-depth needs analysis to determine the exact challenges and opportunities for each team being trained and will then customize the content of the program so that it provides the 'bridge' between theory and execution for trainees to improve performance.
Our Program Designers can also create an implementation and follow-up plan for training participants to enhance the effectiveness and longevity of training results. This customized approach is far more effective than 'off-the-shelf' training programs that require trainees to try and 'figure out' how to apply the ideas and strategies from training to their personal work situations.
There are four ways that programs can be customized for your unique situation:
Tailor the Program Content - Depending on your specific goals and requirements, we can custom-design existing content from our vast library of resources to ensure the program hits the mark for you and your team.
 
Adapt the Delivery Method, Location, or Timing – Want to have your training program delivered off-site or in a remote location? We can do that. Need to split it up into 'bite-sized chunks' because of your busy schedule? We can make that happen. Need a hybrid program with some in-person and some online delivery. No problem!  We will work with you so that your program fits the requirements of your business.
 
Made-to-Order Programming - Do you have a completely unique training requirement or a very specific focus for training and development that 'off-the-shelf' doesn't cover? The Training Group has many training and design experts across a wide variety of fields and industries that can cover almost any topic for you. 
                         
Programming for Your Own Trainers – We have the expertise to create your own internal branded training programs that your in-house team can deliver. Packages will include presentation materials, handouts, facilitator guides as well as a train-the-trainer session for your development team.
Prices are dependent on the length of the program and development time.
Let's have a chat and see what we can do.
 
Some BC employers may have access to funding through the B.C. Employer Training Grant (ETG) which supports skills training to address provincial labour market needs. The program is delivered by the Province of British Columbia and is funded by the Government of Canada through the Workforce Development Agreement (WDA).  For more information on the Grant and to check eligibility. Click Here for More Details.