Every year, students from around the world choose to study at Douglas College.

Why Douglas? As an applied academic institution, Douglas College combines the academic foundations of a university with the employer-ready skills of a college. At Douglas, you will receive the best of both worlds: a deep, well-rounded education and the applied, real-world skills necessary to achieve academic and career success.
What's the Douglas Difference?
Programs that are practical and applied
A strong return-on-investment
A clear pathway to university
Access to a wide variety of career opportunities
The opportunity to gain Canadian work experience
Smaller class sizes
A diverse student body
The opportunity to stay globally-engaged
Direct entry through an ESL pathway
A unique campus experience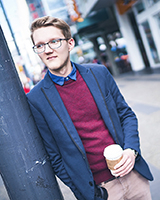 Dmitrii Pliasunov, Russia
Associate Degree in Intercultural and International Studies. Now studying International Studies at Simon Fraser University.
"I was worried about what and how to study in a different country, so I decided to apply to Douglas to take some time to adjust. Douglas helped me adjust to a new country's educational system first and understand who I really am and what I want to do in life."
Ready to learn more?
Create your own custom viewbook featuring the programs, activities and services that interest you. In just minutes you can make your selections and have a personalized link to your own mini-website delivered to your inbox. Edit as often as you like.
Chat with international students