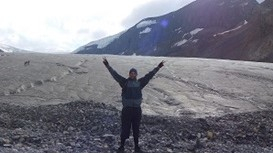 M. Ed. (Geography) - Western Washington University . B. Sc. Geography - University of Victoria
Office:  N3419A (New Westminster), B3166 (Coquitlam)
Phone: 604-527-5781 (New Westminster), 604-777-6161 (Coquitlam)
Fax: (604) 527-5316
Email: crowleyr@douglascollege.ca
I am a physical geographer. My interests in physical geography involve understanding landscape and environmental change. I completed a B.Sc. in Geography at the University of Victoria on Vancouver Island. My professors and instructors aided in my development as an academic by helping to instil curiosity about the natural world. Field courses to glaciers, coastal areas and mountains immersed me into the landscape. My Masters in Natural Science/Science Education (Geography) included a unique teaching partnership with the North Cascades Institute, a non-profit organization based in Washington State. At the North Cascades Institute, which focuses on natural and environmental science education, I led and assisted on field courses throughout the Pacific Northwest – from Glaciers of Mount Rainer and Mount Baker to Coastal Landforms of the Olympic Peninsula.
Activities I design tend to focus on data collection and analysis where the participants get immersed in the subject matter. As an instructor I am constantly thinking of new ways to challenge students to engage with the landscape and their surroundings. In the classroom I like to bring concepts, places, and events to life by telling stories, showing pictures and stimulating discussion. Many issues are not simply about facts, theory, and knowledge, but also about engaging in the places we live. I have been teaching in post secondary since 2005 and I am keen to try new teaching and learning ideas.
As a geographer I have a wide range of interests related to exploring the landscape of British Columbia and beyond. Outdoor recreation and wilderness exploration is a great source of inspiration in my life. Most of my weekends are spent backcountry ski touring, surfing, canoeing, and cycle touring. In winters I also work in mechanized ski/snowboard industry, teaching clients to have a fun and safe experiences in winter recreation.