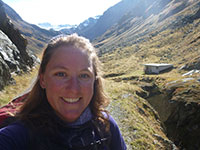 BA Geography (minor Economics) (UBC, 2000), MA Geography (SFU, 2006)
Phone: (604) 527-5781 (New Westminster), (604) 777-6008 (David Lam)
Fax: (604) 527-5316
Email: paynters@douglascollege.ca
About Sarah
I've been teaching geography at Douglas College since 2007 and my academic work focuses on geographies of identity, difference, and belonging. I've previously worked on community development programs in British Columbia and India. After living in Ottawa, Geneva, Bangkok, New Delhi, and Toronto, I've happily settled in Vancouver with my spouse, two dogs, and an excess of camping gear.
As an instructor, I want to engage students by exploring people's everyday geographies, as well as the global connections these geographies have. I spend my academic hours researching theories of teaching and learning, leading discussions on identity and difference, and, of course, exploring human geographies. I'm especially interested in development paradigms, population politics, decolonization, and nationalism studies, as well as understanding how people negotiate complex social identities across different times and places. While students may enter the geography classroom thinking about maps and memorizing country statistics and capital cities, they leave with knowledge on, and the ability to think critically about, other relevant human geographies such as skate parks, bathrooms, virtual worlds, bodies, segregated and colonized spaces, imagined communities, 'the wilderness', and suburban shopping malls.
Courses I teach
An Introduction to Human Geography (GEOG 1100) examines a range of contemporary issues related to globalization and inequality using concepts from human geography. Some of the topics covered include global hunger, poverty, multinational corporations, cultural homogenization, development and aid, urbanization, and biodiversity decline.
The Regional Geography of Canada (GEOG 1180) explores national mythologies and regional fractures, both past and present. Topics covered may include Canadian national mythologies, the ongoing legacies of colonialism, Quebec sovereigntism, Indigenous urbanization, wilderness identities, resource overharvesting, the politics of oil and gas, and multiculturalism.
The Geography of BC (GEOG 1160) asks students to consider geographies of racism, and resource and land conflicts taking into account various stakeholders. We'll look at race-based policies targeting Indigenous and Asian-Canadian communities and identities, as well as conflicts over forestry and fisheries management, pipelines, agricultural lands, treaty negotiations, and tourism economies.
Social Geography (GEOG 2213) draws connections between social relations and the human geographies we construct and inhabit. Questions about identities or social location, inequality, social movements, power, resistance, neoliberalism, and agency are explored by looking at the social geographies of schools, streets, bodies, resorts, neighbourhoods, settler colonies, cities, rural landscapes, digital worlds, and more.
Gender, Sexualities, and Women's Studies (GWSW 1101) uses an intersectional lens and applies feminist and queer theories to a range of contemporary social issues in Canada. Students are asked to think critically about how interconnections of gender, race, ethnicity, class, age, ability, and sexuality, shape oppression and privilege in various geographies.