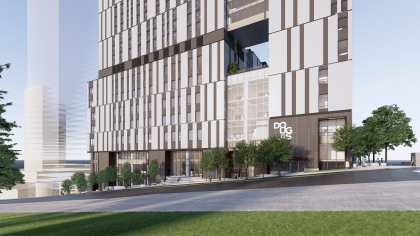 Douglas College is set to massively expand its New Westminster campus, with a new 20-storey student housing and academic building.
The expansion, at 808 Royal Avenue across from the existing campus, will include 368 student beds and 11 storeys of academic space including classrooms, labs, student collaboration spaces, food services and more.
"The new building, 808 Royal, is the culmination of years of consultation and collaboration to develop a unique building that reflects the kind of supportive community that students have come to expect from Douglas College," said Dr. Kathy Denton, President of Douglas College. "This will be a welcoming and accessible space that inspires students to achieve their educational goals and become resilient global citizens."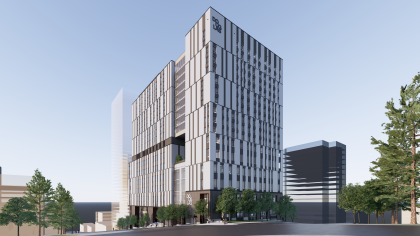 The Ministry-approved expansion is designed to help meet the academic and housing needs of a growing student population and supports New Westminster's ongoing efforts toward community revitalization. It is the largest campus expansion in the history of the College and the first-time student housing has been included.
"Housing on campus is more than just a place to sleep and study," said Kyrstyn Llagas, a current Douglas College student. "It's a place for students like me to build community. 808 Royal will help the future students of Douglas College to feel more connected and supported while they balance their hectic studies, work and life."
The $292.5-million project received $74.0 million in provincial funding for the academic part of the project and $128.3 million for student housing, with $90.2 million provided by Douglas College. The finished building will feature:
368 student beds with both private and communal layouts 

30+ classrooms, six computer labs, and study and leisure spaces 

Two rooftop parks featuring Indigenous flora and traditional medicinal plants  

Food services, community kitchens and a convenience store 

Faculty and staff office space  
Rick Hansen accessibility certification 

LEED gold certification, BC Energy Step Code 4 and zero carbon certification
Construction is expected to begin in summer 2023 with anticipated completion by summer 2026.
Read the Ministry of Advanced Education and Skills Training media release here.