Education
BA, Criminology, Simon Fraser University
MA, Sociology, Concordia University
PhD, Sociology, Carleton University
About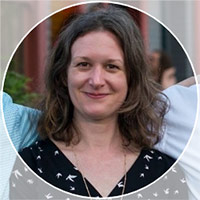 Lisa joined the Department of Sociology at Douglas College in 2015 and finds great joy in pursuing her passion for research and teaching. Her research interests include, but are not limited to: sex and reproduction (with a focus on contraception and the menstrual cycle), gender-based violence, gender, sex, and technology, and community engaged and applied sociology. Lisa is a devoted and passionate educator and scholar, who remains actively engaged within her community and many of her projects involve collaborations with community groups, government, and advocacy organizations.
Her work has appeared in a variety of peer-reviewed publications and edited collections, including Studies in the Maternal, Social Compass, and Girlhood Studies. She is a co-editor on two forthcoming publications, Gender, Sex, Tech! An Intersectional Feminist Guide (with Jill Fellows) and Northern Blood: The Politics of Menstruation in Canada (with Francesca Scala). In addition to publishing in academic venues, Lisa works on an ongoing basis to support knowledge dissemination and public engagement through collaborative events and outreach. Recent events include, SHIFT: Tracing the Social Impacts of COVID-19 and Menstrual Research Day. From time to time she dabbles in podcasting and other kinds of creative academic endeavours and enjoys extending beyond conventional forms of academic publishing.
Lisa is the Coordinator of the Menstrual Cycle Research Group at Douglas College, where she has several active research programs and engages in community advocacy and support of student and community-based researchers. She is the Project Lead for the Douglas College, on a SSHRC partnership grant, led by Dr. Shaheen Shariff, running out of McGill University entitled: iMPACTS: Collaborations to Address Sexual Violence on Campus. Her ongoing work with iMPACTS involves a range of projects, including analyses of sexual violence policies within the post-secondary context, tracing the social impacts of COVID-19 on students, and understanding data gaps in technology-facilitated sexual violence. She is an active member of the Feminist Sociology Cluster in the Canadian Sociological Association, Lisa is committed to dialogue, collaboration, and in particular building capacity and involvement for undergraduate students within the association. In her downtime, Lisa loves a good long walk in the forest or strumming away on the ukulele.
Tel: 604 527 5561
Email: lsmith65@douglascollege.ca
Office: N3310
RESEARCH AREAS
Gender, sex, sexual and reproductive health; Social aspects of menstruation/menstrual cycle; Gender, sex, and technology; Sexual violence, consent, and post-secondary institutions; Community-engaged and applied sociology
Links:
https://www.douglascollege.ca/about-douglas/learn-about-douglas/research-college/research-centres/menstrual-cycle-research-group
https://www.douglascollege.ca/about-douglas/learn-about-douglas/research-college/research-centres/impacts
COURSES TAUGHT
SOCI 1125 Introduction to Sociology
SOCI 1145 Canadian Society
SOCI 2240 Women in Society
SOCI 2290 Society, Tech, Inequality
SOCI 3385 Social Control and Surveillance
CURRENT RESEARCH
Zeba Khan and Lisa Smith, Menstrual equity and period poverty in Canada: Current knowledge and future research direction
Kiran Parmar and Lisa Smith, Menstrual precarity in Surrey, BC: An exploratory study of community supports and services
Alicia Horton and Lisa Smith, Menstrual pains of imprisonment: Reproductive health in Canadian prisons
Lisa Smith and Deyvika Srinivasa, Periods in-between: Menstruation and sexual stigma amongst second-generation South Asian immigrants
Francesca Scala and Lisa Smith, Menstruate, advocate, repeat: The politics of pushing for menstrual equity
RECENT PUBLICATIONS
Smith, L., Gacimi, R., Adolph, N., Hope, J., Tribe, S. (forthcoming). Flow of inequity: Period poverty and the COVID-19 pandemic. Navigating Mental Health, Wellness, and Social Challenges during COVID-19, Shaheen Shariff (ed.). Peter Lang.
Fellows, J., Smith, L. (editors). (2022). Gender, Sex, and Tech! An Intersectional Feminist Guide. Canadian Scholars/Women's Press. Smith, L. (2022). Bikes, birth control, and baby bottles. Gender, Sex, Tech! An Intersectional
Feminist Guide, Jill Fellows, Lisa Smith (eds.). Canadian Scholars/Women's Press.
Smith, Lisa. (2022). Review of Musings on Menopause and Perimenopause: Identity, Experience, Transition editors Heather Dillaway and Laura Wershler. Canadian Journal on Aging.
Tribe, S., Smith, L. (2021). Post-Secondary Periods: Results from the Period Product Access Project. Douglas College Menstrual Research Group.
Smith, L. (2021). Research. Period. A podcast about research about menstruation. - 4 episodes
Smith, L., Paterson, S. (2018). Guiding girls: Navigating neo-liberal subjectivity and government educational resources for young women. Girlhood Studies, 11(2): 13-29.
Smith, L. (2018). Religious diversity, health and healthcare in Canada. In Exploring Religion and Diversity in Canada, edited by Catherine Holtmann, 107-134. Springer.