Education
PhD, University of British Columbia (Northwest Coast archaeology)
MA, University of Missouri (cultural anthropology)
BA, Missouri State University (cum laude)
About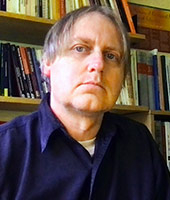 I am an archaeologist and anthropologist who focuses on cultures of Salishan peoples of the Northwest Coast and Interior. My interests include archaeological theory, sociopolitical organization, religion, ideation, and heritage.  I also have an interest in collaborative practices, in which archaeological research is designed and pursued in conjunction with First Nations.
One focus of my research has been warfare in the Coast Salish past in a multi-pronged approach by integrating archaeology, ethnography, ethnohistory, and indigenous oral traditions. Coast Salish peoples have exerted and continue to exert a high degree of autonomy that is expressed through their economy, politics, and ideation, amounting to highly heterarchical and decentralized societies. To interpret such social dynamics, he has studied their archaeological history using anarchism and practice theory.
He also has been involved in collaborative projects with Salishan peoples, such as the Kanaka Bar First Nation, Líl'wat Nation, and the Upper Skagit Tribe of Washington state. He acquired his doctorate at the University of British Columbia in Vancouver. For the past few years, he has co-led excavations, along with Johnny Jones of the Líl'wat Nation, at pithouse village sites throughout Líl'wat traditional territory. We have been surface mapping and excavating pithouses to better understand the antiquity of these sites and evaluate them in light of their oral histories. For the last few summer seasons, crews have involved Douglas College student assistants, Lil'wat community members, and archaeological colleagues.
He has published his research in various journals, including Current Anthropology, World Archaeology, Journal of Anthropological Archaeology, and Ethnohistory. He is also one of the authors of The Upper Skagit Tribe Historical Atlas (2021).
Contact
Office: N3308E
Phone: 604 527 5787
email: angelbeckw@douglascollege.ca
Courses Taught
ANTH 1100: Introduction to Social and Cultural Anthropology
ANTH 1112: Introduction to Archaeology
ANTH 1120: Indigenous Cultures of British Columbia
ANTH 1130: The Anthropology of Religion
ANTH 1160: Indigenous Cultures of Canada
Research Areas
archaeological theory, sociopolitical organization, Indigenous cultures of the Northwest Coast and Interior, anthropology of religion, ideology and ideation
Research Projects
Archaeological Investigations at Líl'wat Ancestral Villages, 2015-current (co-directed with Johnny Jones, Líl'wat Land and Resources Department)
Selected Publications
Angelbeck, Bill 2020 Interpreting the Dialectic of Sociopolitical Tensions in the Archaeological Past: Implications of an Anarchist Perspective for Iron Age Societies. In Alternative Iron Ages: Social Theory from Archaeological Analysis, edited by Brais X. Currás, and Inés Sastre, pp. 29–49. Routledge, New York.
Ritchie, Morgan, and Bill Angelbeck 2020 "Coyote Broke the Dams": Power, Reciprocity, and Conflict in Fish Weir Narratives and Implications for Traditional and Contemporary Fisheries. Ethnohistory 67: 191–220.
Angelbeck, Bill, and Johnny Jones 2018 Direct Actions and Archaeology: The Lil'wat Peoples Movement to Protect Archaeological Sites. Journal of Contemporary Archaeology 5: 219–229.
Angelbeck, Bill, Lewis Borck, and Matt Sanger 2018 Anarchist Theory and Archaeology. In Encyclopedia of Global Archaeology, pp. 1–8. Springer International Publishing, Cham.
Schaepe, David M., Bill Angelbeck, David Snook, and John R. Welch 2017 Archaeology as Therapy: Connecting Belongings, Knowledge, Time, Place, and Well-Being [with Comments and Reply]. Current Anthropology 58: 502–533.
Angelbeck, Bill 2017 Applying Modes of Production Analysis to Non-State, or Anarchic, Societies: Shifting from Historical Epochs to Seasonal Microscale. In Modes of Production and Archaeology, Rosenswig, Robert M, and Jerimy J Cunningham (editors) pp. 52–74. Gainesville, Florida.
Angelbeck, Bill 2016 The Balance of Autonomy and Alliance in Anarchic Societies: The Organization of Defences in the Coast Salish Past. World Archaeology 48: 51–69.
Angelbeck, Bill 2016 Localized Rituals and Individual Spirit Powers: Discerning Regional Autonomy through Religious Practices in the Coast Salish Past. Journal of Northwest Anthropology 50: 27–51.
Angelbeck, Bill, and Ian Cameron 2014 The Faustian bargain of technological change: Evaluating the socioeconomic effects of the bow and arrow transition in the Coast Salish past. Journal of Anthropological Archaeology 36: 93–109.
Angelbeck, Bill, and Colin Grier 2012 Anarchism and the Archaeology of Anarchic Societies: Resistance to Centralization in the Coast Salish Region of the Pacific Northwest Coast [with Comments and Reply]. Current Anthropology 53: 547–587.
Angelbeck, Bill, and Eric McLay 2011 The Battle at Maple Bay: The Dynamics of Coast Salish Political Organization through Oral Histories. Ethnohistory 58: 359–392.
Links