Many of the greatest delights in life come from language, literature and the performing arts.
You probably already know that fact. You've spoken another language – perhaps only a few words – and you realized that it opened you up to other people and cultures. You've read something compelling that changed your life. It could have been a novel, or a poem, or even an elegantly crafted letter. And you've acted in a theatrical production or three, played a musical instrument and written a few lines yourself.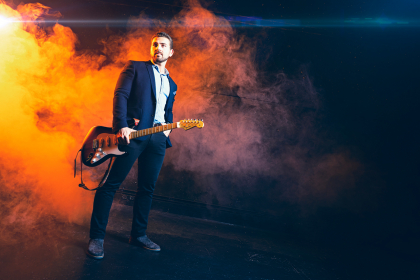 Get Ready to Start Your Arts Career at Douglas College
---
Many of the greatest delights in life come from language, literature and the performing arts.
Gain Competitive Skills
All these artistic and cultural experiences can be enhanced and enjoyed through studies in the Faculty of Language, Literature and Performing Arts. What's more, our courses and programs are intensely practical, resulting in improved critical thinking, better communication and stronger performance abilities.
Explore Variety of Programs
Our Faculty has eight departments and six programs, as well as events and activities open to the College community and members of the public. Studying in our Faculty can lead to the completion of university-transfer courses, citations, certificates, diplomas, associate degrees or degrees. 
Continuing Education
Our Faculty provides continuing education music programs for youths, adults, and prospective music students through the Community Music School. We also deliver literacy tutoring and training through the ICARE(Individualized Community Adult Reading Education) Program.
Attend an Arts Event
While you're at the College, we encourage you to attend readings in our Literature Alive! and Writer-in-Residence series, concerts in the Arts at One and evening programs, performances by our theatre and stagecraft programs and exhibitions in the Amelia Douglas Gallery. Dates and times for upcoming events are listed on the Arts Events page. As well, we publish the award-winning national literary magazine EVENT.