---
👉StrongerBC future skills grant: $3500
This program is eligible for the future skills grant (fsg)!
To learn more about the fsg, please visit this website, or contact our CE department at (604) 527-5472 or cereg@douglascollege.ca.
Skills for Success/Essential Skills Practitioner Training CE Certificate Program (ESPT) has been updated to reflect Canada's new Skills Framework 'SKILLS FOR SUCCESS'!
The ESPT CE Certificate is a unique six-course program offered online, face-to-face, or through a hybrid format.
Who is it for?
Educators, Career Practitioners & Employment Counsellors, ESL Instructors, Human Resource Professionals, and Employers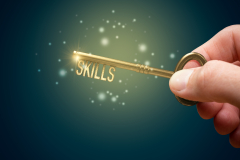 What will I learn?
The ESPT program is designed to assist individuals to integrate Employment and Social Development Canada's (ESDC) task-based Skills Framework into the work that they do with learners. The courses help workers to understand and interpret Skills Assessments and how to design activities to take a construct approach that builds on learners existing skills. 
What are the Courses:
Introduction to Essential Skills/Skills for Success; Canada's Skills Framework / or Aboriginal Essential Skills Journey, Planting the Seeds for Growth*
Methodology and Task Analysis
Assessments, Interpretation & Application
Creating a Skills Portfolio
Bridging the Gap
Work Experience Study
* Aboriginal Essential Skills Journey, Planting the Seeds for Growth is an introductory workshop that was created to incorporate an Aboriginal World View.  Download the free PDF guide and workbooks:
How do I register? 
Visit the Continuing Education registration page.
What if I want to challenge a course?
ESPT courses are eligible for PLAR (Prior Learning Assessment Recognition). Please see the Prior Learning Assessment Recognition Program Guide for an overview.