The WESA (Workplace Essential Skills Assessment) is an online assessment that can predict how well students will do in the workplace.  The website will assess an individual's workplace reading, document use and numeracy skills.  The assessment uses authentic workplace materials from a cross-section of Canadian jobs and industries.  A sample is below.  Keep in mind that the assessment is workplace focused and uses materials found in any Canadian workplace.  The results provide a "here and now snapshot" of one's job readiness.

To access an ES Assessment make a request via e-mail to essentialskills@douglascollege.ca.
You will receive an e-mail with a link to the Assessment site where you can:
practice questions;
take an assessment in reading, document use and/or numeracy;
obtain a 'results report'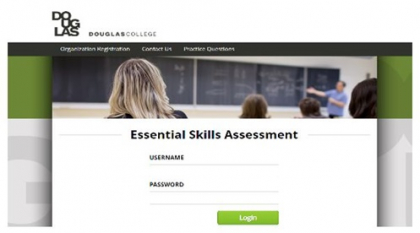 The WESA assessment allows you to choose which skill to assess.
Students are welcome to complete an assessment in one setting or over several sessions.  Internet access is the only requirement.
The assessment 'results report' provides an indication of your skill levels. It is recommended that individuals function at a level 3 in all areas in order to learn new skills.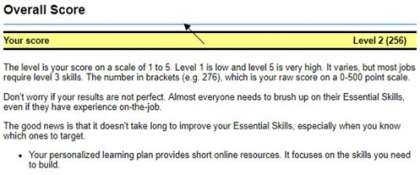 Labour forecasts indicate that most new jobs will require workers with a minimum level 3.  Many factors influence the skill requirements of a job.  If you would like to find out where your skill levels fit, you can compare them with an ES profile. 
The Essential Skills Occupational profiles provide 350 different job reports. Extensive interviews with both employees and employers led to the development of various ES workplace task descriptions.  

The ES profiles contain a detailed analysis of the tasks that a person would perform. As with the ES assessment results, the tasks in the profiles are rated from 1 to 5.  This allows a person to compare their scores to those required for the job.  Remember, skills are meant be learned.  Knowing your scores positions you to take action should there be any skill gaps.  To review the ES profiles website, click on the image below and choose the "explore careers by essential skills profile" link. 

Once you have completed your assessment you can compare your scores with any profiles that might interest you. There is also an optional download with links to various Essential Skill resources should you want to do some basic skill building. 
Students not wishing to do a WESA assessment are encouraged to access the downloadable Essential Skills self-assessments that follow. 
Employment Social Development Canada provides access to self-assessments for all 9 Essential Skills.  Links to each assessment will provide individuals with a downloadable pdf file.  
The assessments are simple checklists and may be printed out once complete.  They will provide individuals with a list of tasks that they are capable of performing.  Knowing your strengths may be helpful for job interviews and resumes.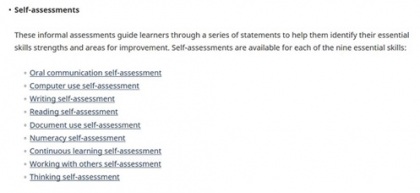 To access the ESDC self-assessments click on the link and scroll down to the Self-assessments section as shown in the screenshot above: https://www.canada.ca/en/employment-social-development/programs/essential-skills/tools.html
The SkillPlan Measure Up website provides access to self-assessments for Reading Text, Document Use and Numeracy using authentic work place materials from a variety of jobs.  Assessments can be completed for Levels 1, 2 or 3.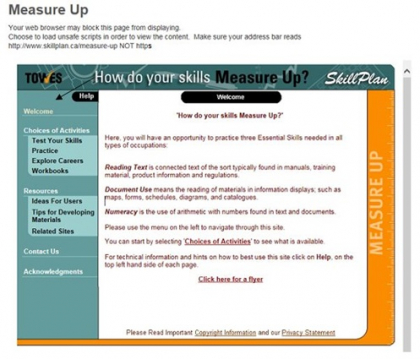 Due to site security settings, accessing the Measure Up assessments requires pasting https://www.skillplan.ca/measure-up in to your browser.  Then choose the "Test Your Skills" link.
---
 FOLLOW TRAINING GROUP