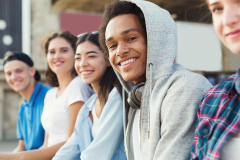 Reboot Plus is an education and career exploration program that develops skills and workplace connections for individuals aged 17 – 24 who have not completed high school or are currently struggling to finish high school.
Reboot Plus meets you where you are and is guided by what drives you. It plays to your strengths and personality and offers an inside look at post-secondary and career options. Reboot Plus will help you move forward by exploring education and careers that interest you.
Learn about yourself, your personality, and your skills. Gain new skills! Find out about and prepare for the training and education you need to get to the career you want. Meet with people who work in the jobs and fields that interest and excite you.
PROGRAM HIGHLIGHTS
Make a plan for your education and career – this program will help you explore and understand your personality, skills, and interests, and let you build a practical plan for your future
Attend two classes per week online and in class at Douglas College
Get one-to-one support from education and career specialists, meet and talk with guest speakers, and go on virtual tours and field trips to workplaces and other colleges and universities
Complete high school credits and set yourself up to access further training and education
Explore further training and post-secondary options to know what you need to have the career you want
Build a professional resume and a career portfolio
Learn and practice presenting yourself to potential employers
Meet with professionals and employers in careers and fields that you are interested in
PROGRAM ELIGIBILITY
Youth aged 17-24 who have not completed high school or who are currently struggling to complete high school
Legally able to work in Canada
English language skills at a Canadian Language Benchmark (CLB) 5 or higher
LOCATION

Douglas College
(New Westminster Campus)

FALL SESSIONS

Mondays & Wednesdays, 3:30-5:30 PM 
(Oct. 4 – Dec. 20, 2023) 
 

OR
 

Tuesdays & Thursdays, 1-3 PM 
(Oct. 3 – Dec. 21, 2023) 

For more information, please contact us:
Phone: 604-777-6006
Email: Reboot Plus
---
The Reboot Plus project is funded by the Government of Canada's Future Skills Centre.
Le projet Reboot Plus est financé par le Centre des Compétences futures du gouvernement du Canada.