LINC (Language Instruction for Newcomers to Canada)
LINC delivers free language training and skills development services that will help you attain the English proficiency you need to function and participate in all aspects of Canadian society and the economy. LINC provides basic and intermediate-level English training for adult newcomers to Canada.  We offer morning, afternoon, and evening classes, as well as child-minding services.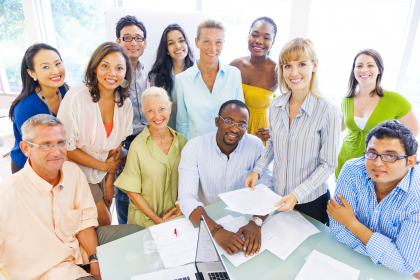 ELIGIBILITY
Clients must be 17 years old or older and approved for permanent residence.  
You must have at least one of the following documents:
a) Valid Permanent Resident Card (check the expiry date on the front side of PR card)
b) Confirmation of Permanent Residence (form IMM5292)
c) Record of Landing (form IMM1000 - issued prior to June 2002)
d) Notice of Decision from the Refugee Protection Division of the Immigration and Refugee Board (IRB) confirming convention refugee status
e) Letter from Immigration, Refugees and Citizenship Canada (IRCC) giving the approval to remain in Canada while the application for permanent residence is being finalized (Approval in Principle Letter)
NOTE: Canadian citizens, temporary visitors, temporary foreign workers, and refugee claimants who have not yet received a positive decision on their refugee status claim cannot take LINC classes.
---
HOW TO REGISTER
1. Clients must have their Original Client Referral Form and one of the following:
     a) CLBPT Assessment Report
     b) LINC Certificate
     c) Learner Progress Report

Before you can enrol in a LINC program, you must complete a language assessment. Click here for the Assessment Centre Application Form.
2. For LINC 1 to 6 classes in Surrey: Complete this online registration form.
3. For LINC 5 & 6 classes in Coquitlam: Complete this online registration form.
4. We will contact you via email within two business days. Remember to check your email.
Note: Incomplete applications or any missing documentation will delay the registration process. All the above documents are only valid for 24 months. If any of the above documents are past due and you have been out of the program longer than 24 months, you must be re-assessed at either Western ESL Services or Surrey Language Assessment Centre.
---
French Courses for Immigrants – (CLIC) Cours de Langue pour les Immigrants au Canada.
Please refer to Collège Éducacentre <Link here>. CLIC is a French program for Permanent residents and refugees. Government-funded, classes are free to students and focus on basic conversation, writing and reading.
---