If you're looking for a way to develop your leadership skills and want to engage with your peers, consider joining the Student Life Volunteer Team.
---
Student Life Volunteer applications for Summer 2023 are currently closed. Please follow us on instagram at @studentlifedc for future updates for when applications open again.
What do Student Life volunteers do?
Event planning, setup and takedown 
Wayfinding 
Designing promotional material for Student Life events and fairs 
Provide crucial student feedback to our department 
 
How is this program different from other volunteer programs at the College?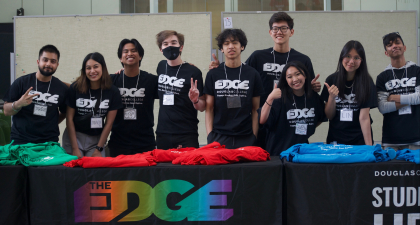 The Student Life volunteer program is a great place to start if you are looking for a more flexible way to get involved. By being part of this program, you will gain access to a variety of fun volunteer opportunities around the College and through different departments. You'll also build your leadership skills and make valuable lifelong connections.
What is the commitment?
5 volunteer hours per semester 
Attend and complete all mandatory training and biweekly meetings 
Maintain a GPA of 2.5 or higher
 
Attitude
Respectful 
Positive 
Encouraging  
Team player 
 
What is in it for me?
Make friends from all over the College and from different programs 
Learn key leadership and interpersonal skills 
Develop connections to various departments and opportunities around the College 
Depending on how many hours you contribute, various awards such as hoodies, gift cards volunteer letters and more!
 
Event examples
Graduation 
Services Fair 
Health Fair 
New Student Orientation 
Welcome Week 
EDGE