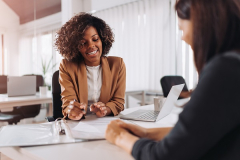 The Training Group is a leader in Essential Skills training and is well-equipped to provide a range of consulting services, including:
Analysis | We can provide a systematic analysis of your program to identify performance gaps and identify program ideas.
Design | Based on the analysis, we can outline performance objectives for your organization or program.
Develop | Using the information gathered during the analysis and design phases, we can develop customized transfer of learning plans based on an Essential Skills approach to teaching and learning. This includes selecting formats (e.g. face-to-face, online, hybrid) and schedules that work well within your organizational structure.
Implementation | We can provide short-term staff to implement your ES program or provide facilitator training to ensure that your staff is confident in delivering the program.
Evaluate | Based on your needs, we can formulate evaluation plans to help you measure how well the program meets its objectives.