Douglas College Optical is open to the public, and located in the Optician Program Vision Centre in the beautiful David Lam Campus in Coquitlam. We offer learning and retail facilities that are unique in Western Canada.
The Vision Centre offers brand name eyeglasses, sunglasses and contact lenses to the public and the Douglas College community. Enjoy substantial savings on all Vision Centre eyewear products and services.
---
Benefit for Vision Care: Reimbursed at 100%, to a maximum of $100 every 24 months for one eye exam, $125 every 24 months for eyewear.
For more info visit mystudentplan.ca
Experienced Opticians
The Vision Centre's lab features state-of-the-art equipment for finishing eyewear as well as instruments for measuring and fitting contact lenses. Our licensed opticians offer personal attention and quality work. Opticians Hanna Pham and Wendy Russo have extensive experience helping customers choose the best lenses and fashion frames to suit their needs. They are also fully qualified contact lens fitters.
Great Selection of Fashion Frames
Visit us with your prescription and let us show you the latest in designer frames. We offer Silhouette, DKNY, Etnia Barcelona, Perry Ellis, Lightec, Oakley,Takumi, Evatik, CK etc. and the latest in lens technology--blue filter, ultra-thin lenses and high definition progressives by Essilor, Hoya, Transitions and others.
Contact Lens fittings
DUE TO COVID - We are not doing any new contact lens fittings at this time however, if you are a current patient of the Vision Centre, we can send repeat orders direct to your home or office.
Want more information?
For more information please contact Hanna or Wendy at the Douglas College Vision Centre.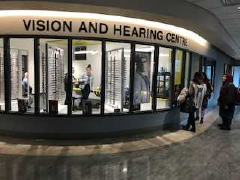 Address
2nd Floor A2040 1250 Pinetree Way Coquitlam, BC  V3B 7X3
Contact Information
Phone: 604-777-6108; Fax: 604-777-6118
FAQ's
We are open for retail business Monday to Friday, by appointment only, at this time. Best contact is by email or you can leave a message at: 604-777-6108.
It takes from 1 hour to 2 weeks depending on the prescription. At DC Vision Centre you will receive prompt service and quality work by our licensed Opticians.
We do all types of frame repairs at very reasonable rates and as quickly as possible. Customers who purchase their eyeglasses at DC Vision Centre are entitled to free cleaning and adjustments as well as minor repairs for the lifetime of their glasses.
Sorry we do not have an Optometrist at this time but can recommend several in our area.
We can bill direct to Manulife (for DC employee benefit coverage), DC Student Health Plan, Social Services, NIHB, RCMP and DVA.
DUE TO COVID our free contact lens program may not be available:
Once a year, we accept contact lens patients for our study group program and offer no fee contact lens fittings by our 2nd year students. Disposable contact lenses (within certain perimeters), fitting measurements, handling & wearing instructions, cleaning kit and case included (no charge for most prescriptions). For appointment or more information on the program call 604-777-6004 (please leave a message).