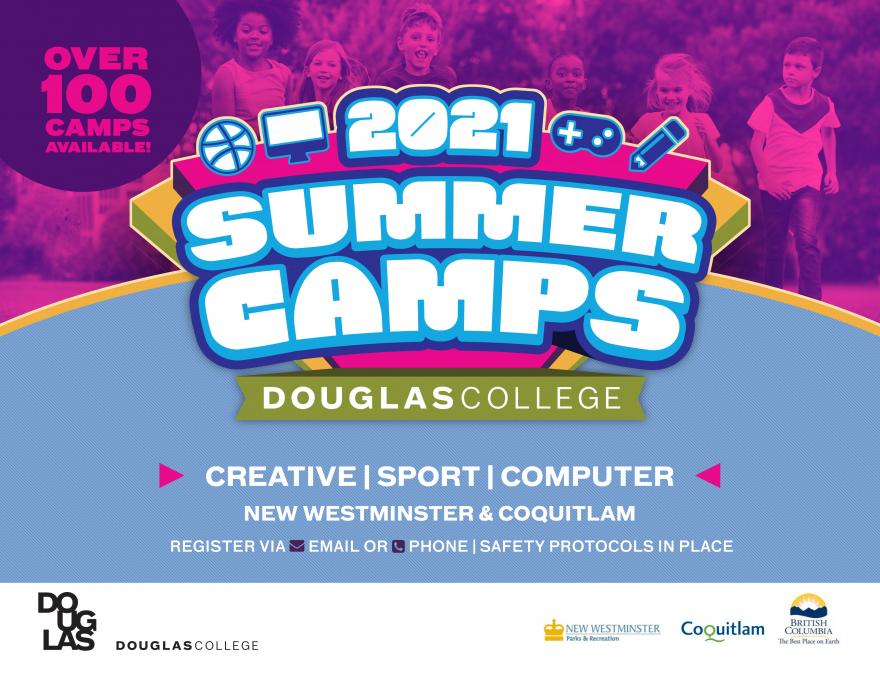 SUMMER CAMPS 2021
REGISTRATION NOW OPEN!
Interested in sports like basketball, baseball, volleyball, tennis or maybe soccer? Or are you a creative person who likes writing, acting, drawing, or even photography. Does scanning line of code, programming video games, or even tracking your favourite athletes performance keep your interest? With over 100 camp offerings, all conducted in accordance with PHO regulations and safety plans, there is something for everyone. Registrations are limited so be sure to sign up early to get your spot.
View our quick 1-pager listing of this year's camp offerings and get a jump on registrations. Camps will fill-up quickly so don't miss out!
If you need more info, check out our FULL BROCHURE guide.
Summer Campus Start Date: July 5th, 2021
Online Camps – We are offering campers the option to participate in many camps online! Summer camps are run by Douglas College student-athletes, university/college coaches and industry professionals who all work hard to ensure everyone has fun in a safe and bully-free environment.
In-Person Camps:  In-person camp delivery will be dependent on Provincial Health Officer guidelines and recommendations. If in-person delivery is permitted, camps may have limited enrollments so we suggest you register early!
Two ways to register:
EMAIL:  Please download and complete the registration form and save it with "CHILD NAME" as the file name and send to CEREG@douglascollege.ca **Once your registration form is submitted, one of our Registration Officers will reply to your email, within 2 business days, with instructions on how to make your payment. Payment is due within 24 hours.
Registration is not complete until payment is made.** 
PHONE: 604-527-5472 *During office hours
In addition to the registration form, all participants are required to fill out and submit an Informed Consent/Authorization Form for Minors & Code of Conduct form prior to the start of camps. After completing the two forms save it with "CHILD'S NAME" as the file name and can be sent as an attachment to youthcamps@douglascollege.ca.
Refund and Course Cancellation Policy
The refund policy in the link above may not apply to all courses and programs. Check the policy specific to your course or program when registering.
Classes may be cancelled, due to insufficient enrollment, up to 48 hours prior to the start of the class. If this happens you will be notified by email and, and if possible, alternative courses will be offered.
We look forward to another great summer at Douglas College. Should you have any questions, please do not hesitate to call the summer camp office at 604-527-5680, or email youthcamps@douglascollege.ca. We greatly appreciate your understanding during these unprecedented times.