Douglas College acknowledges that our campuses, where we live, learn, work and play, are located on the unceded traditional territories of the Coast Salish Peoples of the QayQayt and Kwikwetlem First Nations.
Douglas College is committed to the engagement process with the Ministry of Advanced Education, Skills and Training to develop a comprehensive post-secondary strategy that responds to the Truth and Reconciliation (TRC) Calls to Action and to the United Nations Declaration on the Rights of Indigenous Peoples (UNDRIP) in relation to post-secondary education and training.
NEW: Indigenization Strategy
Over the Winter 2019 semester, President Dr. Kathy Denton created and chaired a Steering Committee to oversee the development of Douglas College's first over-arching, long-term Indigenization Strategy. The Steering Committee consulted broadly, engaging approximately 150 employees and Board members and 50 students, as well as members of local Indigenous communities. The resulting high-level Strategy, presented to the College Board in June 2019, outlines three broad objectives and eight subsidiary ones: it expresses in broad terms the intentions that will guide Douglas College as it continues to respond to the TRC's Calls to Action and the provisions of UNDRIP. 
Douglas College Indigenization Strategy – DRAFT
Objectives

Relevant

TRC¹ / UNDRIP² Provisions

1

Express Douglas College's commitment to Indigenization and reconciliation in ways that are tangible and visible to our communities, our students, our employees and our visitors to campus

1.1

Celebrate more visibly the College's setting among traditional Coast Salish territories and peoples, integrating Indigenous history, sense of place and ways of knowing into our educational and extra-curricular activities

TRC # 63

UNDRIP #s 11, 13, 15, 34

1.2

Increase academic programs that have an Indigenous focus, are culturally relevant in content and pedagogy, and are informed and supported by Indigenous expertise

TRC #s 1, 10, 12, 23, 24, 28, 57, 62, 86, 88, 90, 92

1.3

Identify and remove employment barriers faced uniquely by Indigenous peoples to enable increased hiring of Indigenous employees

TRC #s 23, 92 UNDRIP #21

2

Deepen relationships with local First Nations communities in ways that serve the communities' interests and needs, and the needs and interests of Indigenous students at Douglas College

2.1

Increase and formalize relationships with local First Nations communities in support of partnerships and collaborations

UNDRIP #s 21, 23

2.2

Improve Douglas College's profile within local Indigenous communities as a welcoming, collaborative partner and as a safe, inclusive school that is receptive to Indigenous students, perspectives and ways of knowing

TRC #10 UNDRIP #23

3

Address professional development needs of all employee groups in support of Douglas College's meaningful efforts towards Indigenization and reconciliation

3.1

Address employee professional development and training needs related to Indigenous cultural competencies, anti-racism and inclusivity, and trauma-informed practice

TRC #s 1, 12, 23, 24, 28, 57, 63, 92

3.2

Address faculty and educational support staff professional development needs related to Indigenous pedagogies, courses and programs

TRC #s 57, 62, 63 UNDRIP #s 11, 13, 15

3.3

Develop protocols and policies in support of Indigenization efforts

TRC #s 1, 12, 23, 24, 28, 57, 63, 92
¹ To review the Truth and Reconciliation Commission of Canada's Calls to Action, see https://www2.gov.bc.ca/assets/gov/british-columbians-our-governments/indigenous-people/aboriginal-peoples-documents/calls_to_action_english2.pdf
² To review the United Nation's Declaration on the Rights of Indigenous Peoples, see https://www.un.org/development/desa/indigenouspeoples/wp-content/uploads/sites/19/2018/11/UNDRIP_E_web.pdf
These broad statements capture significant themes reflected in the input and concerns shared with the Steering Committee. Collectively, students, employees, Board members and community partners underscored the need for the College's Indigenization efforts to be meaningful, visible and sustainable—and above all, for these efforts to be undertaken in ways that are inclusive, sensitive to and respectful of Indigenous perspectives and contributions.
The key objectives in the Strategy will guide the further work of employees throughout the Faculties and the service and administrative areas over the next five years; they will also be embedded in the College's 2020–2025 Strategic Plan, as it is developed in the upcoming academic year.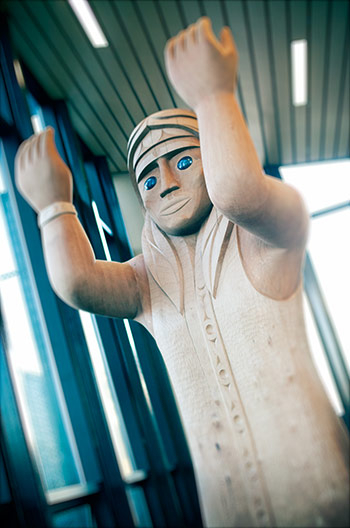 Welcoming Pole by Musqueam artist Susan Point
While we are excited by the clarity and focus that the new Indigenization Strategy will bring, it's important to acknowledge that we're building upon the good work already underway across our campuses. For many years, Indigenous Student Services at Douglas College has done a great job of supporting Indigenous students and working with the College to raise awareness of Indigenous cultures, ways of knowing and histories. The College has also benefitted enormously from the contributions of its Aboriginal Advisory Committee, which provides advice and direction on Indigenous programs, services and activities, and helps the College build and maintain relationships with local Indigenous communities.
Over the last several years, the College has launched a number of additional initiatives consistent with the Aboriginal Post-Secondary Education and Training Policy Framework and Action Plan.
These initiatives, aimed at enhancing cultural awareness and sensitivity toward Indigenous peoples, their histories, cultures and ways of knowing, have included the following:
Working with Elders to build and plant an Indigenous garden at the New Westminster campus
Establishing an Aboriginal Speakers Series
Hosting a community forum on Truth and Reconciliation: Cities and Citizens
Creating an enhanced Indigenous student space at the Coquitlam campus
Developing a program for College Board Members to enhance their cultural knowledge of local Indigenous communities and to increase their awareness of the TRC's Calls to Action and UNDRIP
Implementing a project to increase awareness of support for mental health and wellness in Indigenous communities
Developing a Standard Operating Procedure for smudging on campus
In addition to such formal initiatives, various groups across the College have long been engaged in discussions of the work of the TRC and the Calls to Action.
Resources