ESSENTIAL SKILLS FOR SUPERVISORS - Spring 2021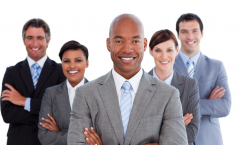 Be the leader you were meant to be!
---
ESSENTIALS SKILLS 1 & 2
 
1. Essential Skills: The Role of Management, Leadership, and Coaching
Many Supervisors in the workplace today have never received any formal supervisory training for their role. They may have been a great employee, which is usually the reason why they were promoted, but moving from managing yourself to supervising other people can be an incredible leap. This workshop is designed for both new and experienced Supervisors who wish to move beyond basic management skills and develop strong abilities to better lead their teams and shape their corporate culture.
2. Resolving Conflicts and Difficult Situations 
Challenging situations are a fact of life in any workplace. These situations arise for a variety of reasons including our own or other people's behaviours, conflicts of interest, personality clashes, errors, and a variety of unexpected circumstances. If managed well, they can have a powerful and positive effect. But if managed poorly, or ignored, they can be disastrous for business as conflicts negatively affect staff morale, efficiency, and commitment.  In this highly interactive workshop geared specifically for Supervisors, participants will not only learn effective strategies to resolve conflicts and difficult situations with sensitivity and respect, but they will also participate in active role-playing to hone their skills.
 
Location:  Online via Zoom 
Cost:         $299 (includes 2 sessions)
Time:         9:00 a.m. - Noon
Dates:       March 16 & 23, 2021
Course:    Essential Skills 1 & 2
 
Registration
Register by emailing: ce-tg_registration@douglascollege.ca  
Ask to register for Essential Skills 1 & 2 and quote CRN 11329
Once you register, you will receive further information about the online payment method.
Please note: We reserve the right to cancel any course due to insufficient registration.
 
Continuing Education Courses
Course registration is on a first-come, first-serve basis. If the class is full, please ask to be placed on the wait-list.