Program
Hospitality Management (Diploma)
---
Winter 2023: Currently accepting applications
Summer 2023: Currently accepting applications
Fall 2023: Applications open Oct. 3, 2022
Length of Program
Four semesters
Admission Type
Limited Enrolment
Overview
The Hospitality Management Diploma Program provides you with marketing and management principles associated with lodging and restaurant operations. If you already have experience in the field, the program offers an opportunity to expand your marketing and management theory and practice in preparation for university transfer or management training programs.

Make valuable contacts and secure paid work as part of the program's work experience component. Many of our students get hired for seasonal jobs – or permanent full-time jobs as graduates – at our Career Days hiring fair every spring. 
Get valuable work experience through the Business Internship program  
In the Business Internship Program, you'll apply the theory and knowledge you've learned in class into a real-world business setting. During your unpaid part-time internship, you'll be assigned tasks and projects that junior management, marketing, business, administrative and/or sales employees complete in the modern workplace. 
To be accepted into the internship program, you must contact the Career Centre early in your studies at Douglas College. 
Excellent job prospects
Surveys show that 84 percent of our Hospitality Management Diploma graduates are working in the field after graduation. (Source: B.C. Student Outcomes). Over 105,000 hospitality job openings are expected in B.C. until 2028.
Further Studies
Planning to continue your education into a degree? The Hospitality Diploma Program transfers directly into our Bachelor of Business Administration Management degree which offers a concentration in Hospitality Management. You'll learn essential business skills in finance, economics, business strategy, human resources, innovation, ethical decision-making and more. This program also receives transfer credit to third- and fourth-year degree programs at many universities in other provinces and around the world.
NOTE: Students beginning the program in the Summer semester should note that only non-Hospitality Management (HOSP) courses will be available. HOSP courses are offered in the Fall and Winter semesters.
Program Requirements
Curriculum Framework
Graduation Requirements:
Successful completion of 60 credits
25% (15 credits) must be completed at Douglas College
500 work experience hours approved by Chair
A minimum program GPA of 2.00 is required
Course Requirements:
Students are expected to complete at least 24 credits of 1000 level courses prior to registering into 2000 level courses. This can be accomplished by registering into 2-3 "HOSP" 1000 level courses and 2-3 other 1000 program courses (BUSN, CMNS, CSIS, ECON, ENGL, FINC, MARK) in the first and second semester.
Students must enroll in and successfully complete four or five courses per semester to remain as Full Time status.
Course Number
Course Title
Credits

Required courses:

Tourism Business Structure

3.00

Introductory Food Management     

3.00

Food and Beverage Service Operations

3.00

Business Law

3.00

Excel for Business

3.00

Introductory Marketing

3.00

Select one course from the following two options:

Principles of Accounting I

3.00

HOSP 1210 (recommended)

Accounting Principles

3.00

Select one course from the following two options:

Workplace Communications for Selected Programs

3.00

CMNS 1115* (recommended)

Business Communication

3.00

Select one course from the following three options:

ECON 1101** (recommended)

The Canadian Economy

3.00

Principles of Microeconomics

3.00

Principles of Macroeconomics

3.00

Select one course from the following six options:

Reading Literature and Culture

3.00

Reading Fiction

3.00

Reading Poetry

3.00

Reading Plays

3.00

Academic Writing

3.00

Studies in Canadian Literature

3.00

Select one course from the following two options:

Commercial & Financial Mathematics

3.00

Introduction to Statistics

3.00

Required Courses:

Front Desk Operations

3.00

HOSP 2255 (Winter only)

Beverage Management

3.00

Hospitality Management Accounting

3.00

Food and Beverage Cost Controls

3.00

Hospitality Sales and Advertising

3.00

HOSP 2445 (Fall only)

Hospitality & Accommodations Management

3.00

Hospitality Business Policy

3.00

Event Management

3.00

Human Resource Management

3.00

Total Credits

 

60.00
*Select asterix courses if you want to pursue the Bachelor of Business Administration track.
**ECON 1101 is recommended over ECON 1150.  Please note that some university-transfer programs require ECON 1150.
Admissions Requirements
Applicants must meet the admission requirements listed below:
Foundations of Math 11 or Pre-calculus 11 or equivalent. MATU 0410 or successful completion of the Business Readiness Assessment are acceptable alternatives/equivalents for the Math 11 requirement.
Cost
You can get an average cost for your program - tuition and student fees, books, uniforms, lab fees etc - on the Program Cost page. 
Only programs approved for student loan funding are listed on the Program Cost page. For all other programs, refer to the Tuition Fee page.
Career Pathways
Career opportunities include: 
Event Management
Hospitality Business Policy
Hospitality Sales and Advertising
Tourism Business Structure
Program Guidelines
Program Guidelines for previous years are viewable by selecting the version desired. If you took this program and do not see a listing for the starting semester / year of the program, consider the previous version as the applicable version.
Testimonials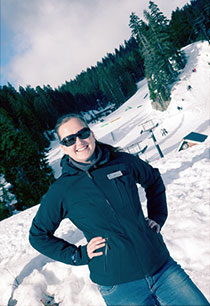 Hospitality Management (Diploma)
Anna Rowinska landed her dream job at Mt. Seymour after graduating from the Hospitality Management program.
More Information
Special Academic Requirements
To maintain Full Time status in the Hospitality Management Diploma program students must meet the following criteria:
1. Must register in a minimum of 12 credits  per semester; 
and
2. Achieve a minimum grade of "P" in all registered academic courses for which there is no prerequisite and a minimum grade of C- in which the course is a prerequisite.
If any of the above criteria are not met, students may be placed on Part Time Status. Failure to register into any HOSP program courses in any semester may result in removal from the Hospitality Management Diploma program. Students removed from the HOSP program can re-apply after one year. 
Part-Time 
Course registration is prioritized for full-time students. Part-time students will have access to courses where seats are available. This may sometimes cause delays in progress through the program for part-time students.
 
Students must meet prerequisite grade of C- or better and finish first-year courses prior to registering into second-year courses or receive written permission of the Department Chair. Second-year courses are reserved for students having met prerequisites and completed first-year courses.
 
The program is designed to be completed in two years over four semesters - five courses per semester. Taking fewer than five courses per semester will leave you behind and having to complete courses during the summer or at other institutions should space not be available in HOSP. Full-time students taking three or less courses per semester will be re designated as Part Time.
Work Hours Graduation Requirement
Prior to graduating from the program, students must show proof of having completed at least 500 hours of paid hotel or restaurant experience.
---
Tuition Deposit
When offered a full-time seat in this program a non-refundable, non-transferable $350 tuition deposit is required.