Length of Program
Two semesters
Credential Type
Certificate
Campus
Coquitlam
New Westminster
Admission Type
Open Enrolment - General Admission Requirements
Overview
Gain marketing and business knowledge that can be applied to any industry with the Certificate in Marketing program. You'll develop skills in customer relations, selling, advertising, marketing research and management, and be qualified for entry-level marketing positions in a variety of businesses. 
Learn how to devise marketing strategies, do market research and design promotional campaigns. Understand a variety of marketing techniques and know how to apply them to the latest trends in e-marketing, customer relationship management and corporate social responsibility. 
Further eduaction
Graduates from this program interested in furthering their careers in the marketing field can seamlessly transfer into the Marketing Diploma program or the Bachelor of Business Administration in Marketing program, opening the door to even more employment opportunities.
Program Requirements
Curriculum Framework
Graduation Requirements
Successful completion of 30 credits
25% (8 credits) of all coursework must be completed at Douglas College *
A minimum program GPA of 2.00 is required
*Effective for Summer 2017 graduation, a minimum of 50% of the required program courses must be taken at Douglas College. 
Course Requirements:
Course Number
Course Title
Credits

Select one course from the following two options:

Practical Writing

3.00

ENGL (UT)*

University Transferable* English

3.00

Select one course from the following two options:

Business Math

3.00

Commercial and Financial Mathematics

3.00

Required Courses:

Elective**

Elective** (see below)

3.00

Introduction to Marketing

3.00

Personal Selling

3.00

MARK 3235***

e-Marketing

3.00

MARK 3215***

Buyer Behaviour

3.00

MARK 3340***

Promotional Strategy

3.00

MARK 4360***

Customer Relationship Management

3.00

MARK 4440***

Marketing Strategy

3.00

Total Credits

 

30.00
* A university transferable course is a course that transfer to one of the 5 Research Universities - SFU, UBC, UBCO, UNBC or UVIC – according to the BC Transfer Guide.
** ELECTIVE - Students can choose one (1) of the following courses: CSIS 1190, BUSN 1210, ACCT 1235, PHIL 1122, PSYC 1100, or BLAW 1320.
*** Marketing Elective - can be replaced with one of the following:  MARK 3280; MARK 3300; MARK 3313; MARK 3470; MARK 3490; MARK 3500; MARK 4441; MARK 4270; MARK 4410; MARK 4390; or any other suitable marketing course 
Admissions Requirements
Applicants must meet the admission requirements listed below:
Note: Prerequisites to many courses offered by the Faculty of Commerce and Business Administration is:
Foundations of Math 11 or Pre-calculus 11 or equivalent or Business Readiness Assessment
Therefore, it is strongly recommended that you check each individual course prerequisite and ensure that you have completed this Mathematic requirement prior to registration.
Cost
You can get an average cost for your program - tuition and student fees, books, uniforms, lab fees etc - on the Program Cost page. 
Only programs approved for student loan funding are listed on the Program Cost page. For all other programs, refer to the Tuition Fee page.
Career Pathways
Marketing Management Certificate graduates find entry-level marketing positions in a variety of businesses. For graduates already employed, the knowledge gained from the program can lead to improved performance and advancement to management positions. 
Program Guidelines
Program Guidelines for previous years are viewable by selecting the version desired. If you took this program and do not see a listing for the starting semester / year of the program, consider the previous version as the applicable version.
Testimonials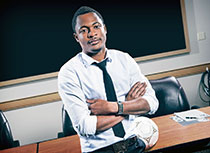 Marketing (Certificate)
First-year Marketing Management student Richard Petrus has big dreams.