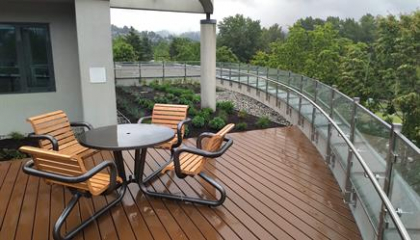 Five new, architect-designed green spaces await members of the College community returning to Coquitlam Campus this summer. Themed courtyards, representing various geographical areas of BC, now provide a functional and visual improvement to the outdoor spaces of the A and B buildings, including the deck outside the B3120 lunchroom, which is accessible to employees.
When the building passed the 20-year mark in 2017, the College undertook replacement of the roof membrane for the main parts of the A and B buildings, as part of our infrastructure renewal program, but work on the courtyards was deferred for budgetary and planning considerations. The Facilities Projects team consulted Rob McGregor from the Biology Faculty, and worked with architects and contractors to design the courtyards, remove the old rocks, soil and plants, replace the rooftop membrane, and finally install the new landscaping and plants.
The courtyards provide an educational opportunity for employees and students to learn about the flora of the following regions of BC:
Courtyard A – Coastal Mountains

Courtyard B – Caribou and Interior Plateau

Courtyard C – Boreal Taiga

Courtyard D – Columbian Rocky Mountains

Courtyard E – Southern Interior
Additionally, Courtyard E (pictured above) was expanded to include new composite decking and glass railings to improve the experience for those making use of the area.
These courtyards and the underlying roof membrane will provide the College community with practical and aesthetically pleasing outdoor spaces for the next 20 years or more.